Photons to photos website published the test results of Sony A7R IV camera. And we have compared the test results with Canon EOS R and Nikon Z7, Let's have a look what we have found.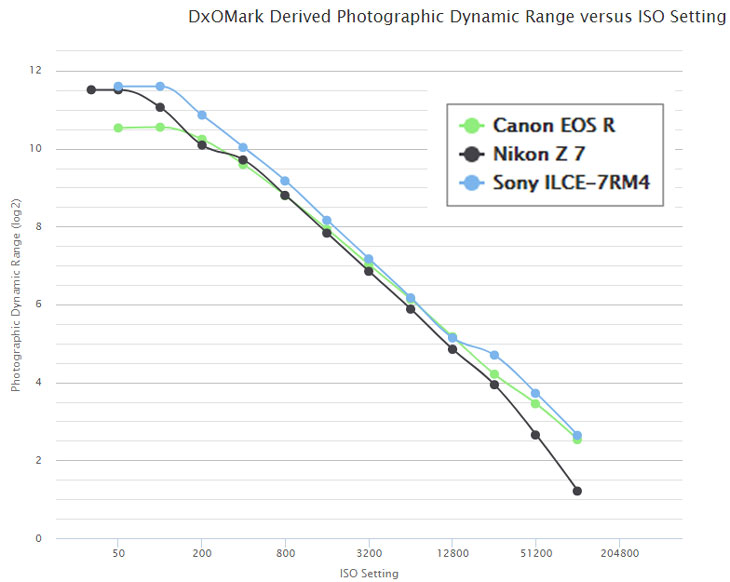 As you can see all the three camera test scores approximately falling in the same zone that's a good news, more or less you will be getting good results from these cameras.
Sony A7R IV vs Canon EOS R vs Nikon Z7 – Verdict
1. Sony A7R IV – Either low or at High ISO range, Sony A7R IV camera have consistence better Dynamic Range performance.
2.  Canon EOS R – isn't too good at base ISO,  Dynamic range of Canon EOS R improves from ISO 400 and matches with Sony A7R IV DR at ISO 3200 till the end.
3.  Nikon Z7 – Nikon DR performance is bit zig-zag, Nikon Z7 DR is excellent at base ISO 50, from ISO 100 to ISO 400 Nikon Z7 DR performance is below than Sony A7R IV . From ISO 400 to 12800 the DR range remains in the competitors zone, but falls significantly after ISO 25600 and onward.
Sony A7R IV vs Sony A7R III
We have also compared the dynamic range of the Sony A7R IV camera with Sony A7R III. We came to know that the dynamic range of Sony A7R IV camera looks exactly similar as of Sony A7R III camera..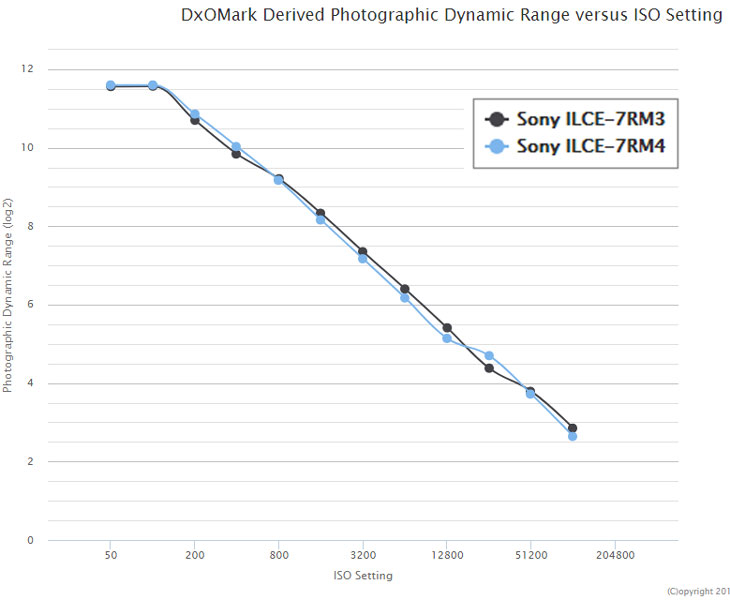 We can confirm you from the test results, despite of increase in the resolution of Sony A7R IV, the dynamic range doesn't decrease it's the same that you get in the A7R III which is absolutely a fabulous thing to know.
Sony A7R IV is one of the most popular Sony cameras among professional photographers right now. And not only Sony A7R IV, Sony A7 III is one of the hottest selling full frame mirrorless cameras of 2019.
SUBSCRIBE FOR LIVE UPDATES
Get LIVE RUMORS –> FACEBOOK | TWITTER |  INSTAGRAM to to get live news — > –>see more Sony Alpha Rumor