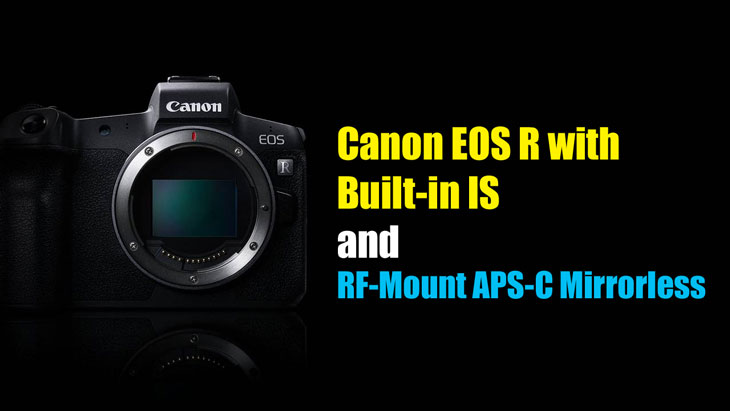 In an interview with Amateur Photographer Canon executives confirms that they are working on built-in Image Stabilization system for Canon EOS R series camera and more…..
1. Canon EOS R PRO With Built-in IS
More confirmations coming from Canon, that they are actively working on Canon next pro level Mirrorless camera. And their representatives confirms again that Built-in Image stabilization system is coming inside Canon for sure.
As we all know that Canon T7i, Canon EOS M50 and recently announced Mirrorless camera have Dual Image stabilization mode. Where camera uses Digital IS in combination to Lens IS.
So, Canon will be soon replacing the Digital IS with Real Image Stabilization system in their upcoming model.
AP: There have been quite a lot of requests from customers and reviewers alike for IBIS on the EOS R, not to mention dual card slots. How do you respond to this?
YM: Yes, we are aware of these voices… We are thinking how we can develop the line-up. With the R and RP we look at the entirety of the package, as mentioned. In terms of IBIS, we are looking into it for the future. We believe IBIS will work together hand in hand with optical IS lenses, such as the ones you see in front of you, to offer better features
2. Canon APS-C Mirrorless camera with RF-Mount

As we all know that Canon APS-C DSLR uses Fullframe Mount, and that's why you can use EF and EF-S Lenses with you Canon APS-C DSLRs.
But, that not in the case for Canon APS-C Mirrorless series camera.  The Canon EOS M series is not designed while keeping RF mount in mind. OR at the time when EOS M series was developed there was no plan for a fullframe Mirrorless camera.
That's why the EOS M series now look bit isolated in Canon after the announcement of Canon R series camera. And as usual you cannot use RF lenses in EOS M series camera. So, actually still Canon APS-C DSLRs are more versatile than of Canon EOS M series camera.
SO when the interviewer asked
AP: Are you going to keep EOS M in its existing form, or are you going to make a APS-C camera with the RF mount?
YM: That's a product development for the future so I can't go into detail, and the market will dictate what sort of direction we should take. If the customers do want a small size, lightweight mount I believe there is room for that, so as we said in the previous answer, we will continue to work with the M mount.
Very clearly Canon accepted the possibility of RF mount based APS-C Mirrorless camera in near future.

Also see Canon EOS R with 70 MP sensor coming
Check out Ongoing Featured and Lightning Deals at Amazon.com | Amazon.UK | B&H Store
Get LIVE RUMORS –> FACEBOOK | TWITTER |  INSTAGRAM to get live news + Canon rumors 24X7