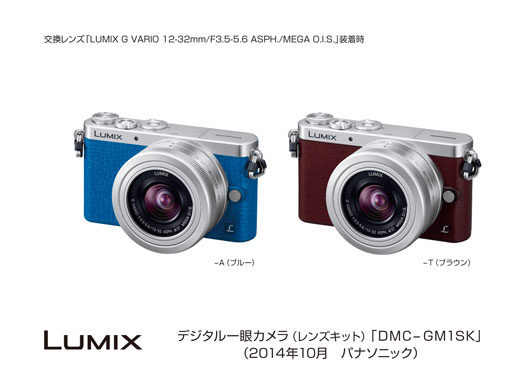 I was looking at the list of new products announced by Panasonic in Japan today, everything was same except one the Panasonic GM1 S, however after looking at the core specification the camera look similar to GM5 camera..but I am not able to fine viewfinder in it..take a look at the translated press release below (inlcuding the major features of the new GM1 S camera)
Panasonic GM1 S Press Release (translated)
Panasonic Corporation, will be released from November 13 the mirrorless interchangeable lens camera LUMIX GM1S condensed high-quality performance of the SLR in a small body.
This product is a model that renewal in the new color Blue, Brown, the LUMIX GM1 that are acclaimed as high-quality single-lens camera of compact, lightweight body, you add a new feature. Such as the AF function and enrichment with excellent image quality by Venus engine and 16M Live MOS sensor, features a high quality is intact, I was equipped with new useful features. For example, transferred to the smartphone a short video that was taken, and equipped can create short movies by connecting the "snap movie mode", Wi-Fi ® upload to SNS is possible without going through the smartphone image during playback by function In addition, Wi-Fi and smartphone ® I have to be in the reading of the QR code that is displayed on the monitor of this product connection.
We will continue to propose to the user to find the single-lens camera that combines the design and appearance of the mobility and high image quality, this product.
Feature
The new color variations to the small size and high-quality body
AF function and enrichment with high image quality with 16M Live MOS sensor and Venus engine
Shooting function evolved from GM1, was further enhanced
and transferred to the smartphone short video-, can make a short movie "snap movie mode"
and usable image effect of the 22 species the same as "creative control" the (filter) also · PASM mode
· Wi-Fi and smartphone ® possible reading of the QR code that is displayed on the monitor of this product connection
source – panasonic japan