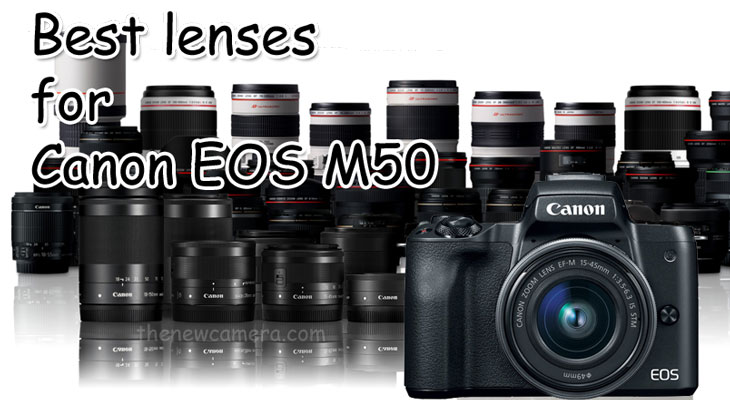 Best lenses for Canon EOS M50, take a look at the recommended lenses for Canon EOS M50 camera. These lenses will satisfy all of your needs for sure. Take a look at the set of highly recommended lenses for your EOS M50 and do share your questions and thoughts with us.
Recommended lenses for Canon EOS M50
1. Best All purpose Lenses for Canon EOS M50
Canon EF-M 18-150mm f/3.5-6.3 IS STM Lens  With this lens get approx 8.3 X optical zoom with this lens, and lens is very sharp even at the wide end. One of the best all rounder lens for Canon M50 camera available at $499. The 18 to 150 mm lens features stm autofocus system, so when you will going to use Dual pixel CMOS autofocus system based camera EOS M50 with this lens the autofocus will going to be superfast and will be done in a fraction of seconds. other feature includes optical image stabilizer with combination image stabilization and stabilized panning.
2. Portrait lens for Canon EOS M 50 camera
Sadly, there is no 50 mm lens available for the Canon mirrorless system. so either you can get a 50 mm lens with an adaptor for the year for mount. The auto focus auto exposure all will work very perfectly when you mount a Canon EF lens with Canon EF to EF-M Mount adapter.
There are lots of third party adapters also there affordable rate, but I don't recommend you to get those when you already have the original adaptor made by Canon.
3. Best third party lens for shooting portrait images
before we begin let me tell you that the third party portrait lenses doesn't have autofocus support. So you have to use focus peaking to get sharp autofocus.
Rokinon 50mm f/1.2 Lens for Canon EF-M One of the best lens for portrait shooting with EOS M50, 50mm F1.2 captures stunning and sharp images even at max aperture. But you should have some experience with the manual focusing in lenses in order to operate the Rokinon 50mm f/1.2 Lens.
Mitakon Zhongyi Speedmaster 35mm f/0.95 Mark II Since, its a 35 mm lens so it would be not so suitable for getting portrait done. But one of the best lenses for low light work. I must also add that it is one of the fastest lens available for your Canon EOS mirrorless system having aperture value of F0.95 The images of the lens super-sharp even when captured at wide open aperture of 0.95. Highly recommended for wide-angle portrait shots.
4. Best Macro Lens
Canon EF-M 28mm f/3.5 Macro IS STM Lens Canon made one of the best macro lens for their mirrorless system cameras, and its name is Canon EF-M 28mm f 3.5 macro. The lens features STM stepping motor which is super silent while working. The Macro lens also features hybrid image stabilization system so you can also capture supermacro images without the help of tripod. One of the best feature I like about this lens is the front LED light, that brighten up the subject without casting the shadow of the lens.
5. Best Super Macro Lens
4.5x Super Macro Lens for Canon EF-M Best Canon Super Macro Lens is  Mitakon Zhongyi 20mm f/2 4.5x Super Macro Lens for Canon EF-M. Keep in mind that lens doesn't have Built-in IS like Canon Hybrid Lens and features more magnification ratio so you have to use tripod while shooting your subject.
6. Best zoom lens
Canon EF-M 55-200mm f/4.5-6.3 IS STM Lens. Best zoom lens Canon mirrorless system camera is the 55 to 200 mm. The lens features STM motor, so you get silent and fast auto-focusing operation. And also full time manual override.
If you want to get high quality zoom lenses then you should go for Canon EF L series lenses and the lens adaptor for using EF lenses on a EF-M mount.
7. Best Fisheye lens
Rokinon 8mm f/2.8 UMC Fisheye II Lens for Canon EF-M Mount One of the best Fisheye lens for mirrorless system camera is Rokinon 8mm Fisheye II Lens. It's one of the best lens for shooting Landscape and architecture work. Keep in mind the 8mm is a fully manual lens, however, you get tack sharp image even at MAX aperture. Focus peaking built into the Canon EOS M50 camera easily confirms focus.
do share your questions and thoughts with us