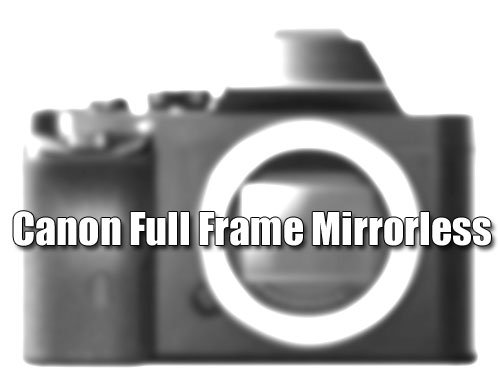 Will Canon going to announce fullframe mirrorless camera with new lenses in future? … take a look below
Confirmations
During an interview (published on September 25th, 2014)
Masaya Maeda, the Managing Director and Chief Executive, Image Communication Products Operations confirmed that Canon is working on serious mirrorless camera system other than EOS-M
Currently no Canon camera offers more than 22MP. Do your DSLR customers ask for higher resolution?
Maeda: Yes. We know that many of our customers need more resolution and this is under consideration. In the very near future you can expect us to show something in terms of mirrorless and also a higher resolution sensor.
---
Latest Rumors
Latest rumors (published on December 1st, 2014 ), we got a information that Canon may announce a new fullframe mirrorless camera in 2015, however no detailed information is available. Here we are not talking about the EOS M3 camera, its completely new camera system coming from Canon.
---
Past
The EOS M failure
Canon EOS M was not a successful product,and according to me one of the biggest reason behind the failure EOS M series camera that it uses a completely different series of lens system… EF-M…
---
They messed all the things…
Canon Dual Pixel CMOS AF in DSLR Body …. Canon already Implemented Dual Pixel CMOS AF sensor inside the DSLR, but Why ? … the best place to implement the CMOS AF sensor is in a mirrorless body since you have no space to add a external AF module just like a DSLR…   and on the other hand the DSLR body gives you a option to have external AF module inside camera body.
In my view... The DSLR line should have pure CMOS sensor… I am also canon shooter from years and I like the color produce by the Canon sensor… I don't want to buy a Canon DSLR that has a Sony sensor…..and also if my DSLR is capable of having a different AF module … why they adding more and more complex technology inside DSLR sensor… the concentration should be pointed towards the development of high performance lowlight CMOS sensor just like Sony A7s.
No Need for Mirrorless Camera if it doesn't directly support EF and EF-S lenses, Canon users those who already have high quality lenses will not going to invest money in new lenses or adapters….and the mirrorless cam is useless if the camera body arrived by having similar sensor as of Canon DSLRs , it's a flop show… and no one's want to see that..
STAY WITH NEW CAMERA ON FACEBOOK | TWITTER | GOOGLE+ to get live news + rumors 24X7+