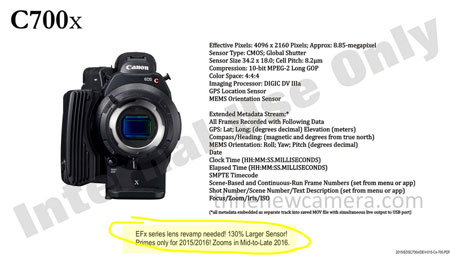 Ok we again got some bunch of information related to Canon C700X, Now we are saying the source is not so new, since he already provided a bunch of specification and image of CX700X… say its name gimme, one thing is clear the camera code name is Canon C700X, Also keep in mind that met data we have received given is bit old… from mid-2013, so so I think they've been working on this for quite a while. The other thing we have to keep in mind that this camera may not arrive soon, possibly at the end of 2015 or sometine in 2016.
To short emails received by gimme and screen shot of metadata file are below…
I have two emails which you really don't want to know from where they were obtained but which seem to indicate some more recent upgraded specifications on the code-named Canon C700x camera. Do note the AVC 14 bit 4:4:4 High-Level Predictive Frame
Profile Hi444PP and the high definition Rec.2020 color space! That's news to me and good for the rest of us. Maybe Canon is finally getting serious about competing with ….
TO: *******
FROM: *******
Date: Feb 11, 2014
Talked to ***** last week before his Oly assignment. He sent me the email from our sales rep up in Vancouver who has a client that's doing an unusual multi-screen video application with four 1Dc's. The client has a long list of feature requests for extended metadata fields in all our cameras. They were pretty explicit in what they wanted and I was told to pass it on
to development.
I liked what I saw and when I mentioned it to Shane, he thought it was a fantastic idea for helping out the VFX and Documentary guys. Mentioned it to ILM VFX who gave their thumbs up too! Got the list of MUST-HAVES for the metadata and had the go-ahead to get the Codies to do a prelim RAD version. VFX needs to know when something has changed on the camera which is why we need metadata for E-V-E-R-Y frame. Export to XML file from the saved MOV file metadata track and a live XML fields export to the USB port is a MUST!
I brought it up at the ******** and got prelim go-ahead for the C100/C300/C500 as a firmware update late next year. External module won't be finished by NAB15 but at least the file format's there! No decision yet as to whether we should announce at NAB15 or wait til September/October 2015.
I talked to some VFX and File Wranglers to see what they wanted in the extended metadata streams. Some Codies and Camera OPS put in their $0.02 so I'll send the specs over for you to look at.
TO: *******
FROM: *******
Date: Oct 16, 2014
***** says we'll announce the metadata upgrades at NAB15 but wait til the Codies finish the firmware and the MOV Metadata Track embed by next September/October.
We'll put the GPS-Lat-Long-Elev and 3D-Roll-Yaw-Pitch chips in the external module we have now for the C100/C300/C500 and build it into C700x. Prok will update me with the MEMS and GPS chip sources later today.
***** finalized the metadata stream formats and field names and wants you see what else to add for export to external
file and to USB port. Looks like we're good up to 300 fps at 1024×768 with 4:2:0 and 120fps at 1280×720 at 4:2:2. Great color 4:4:4 at 60 fps on 1920×1080 to 4096×2160. Can't do 120+ fps at 1080p without dropping color sampling and upping compression.
**********************************************
Screen shot of metdata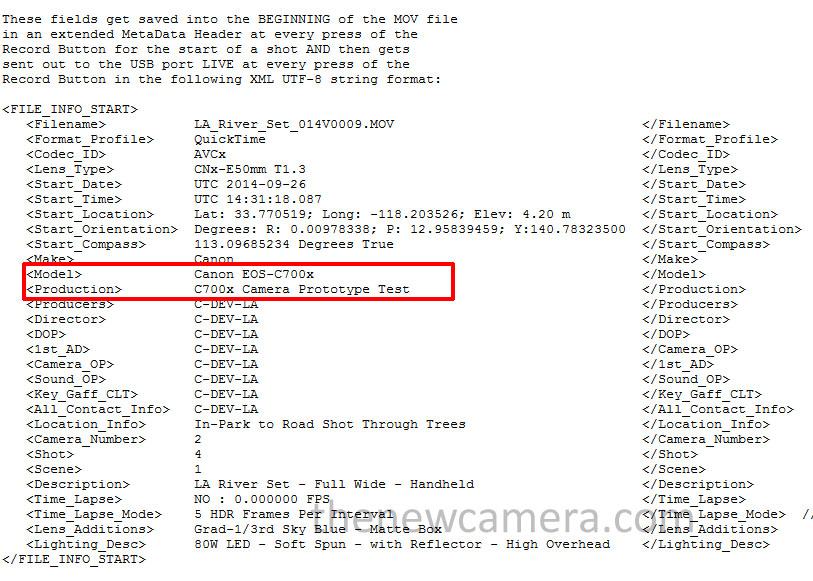 I am not a video guy, I shoot stills, do share your thoughts with us.