Sony A7R II camera features ultra compact body and high resolution BSI CMOS sensor, on the other hand we have Nikon flagship camera Nikon D4s that features a 16MP low-light sensitive sensor with a limited no of 51 AF points, now to know who wins the competition you have to read the full article below..
Major Difference
Sony Alpha 7R II vs. Nikon D4s Specification Comparison Table.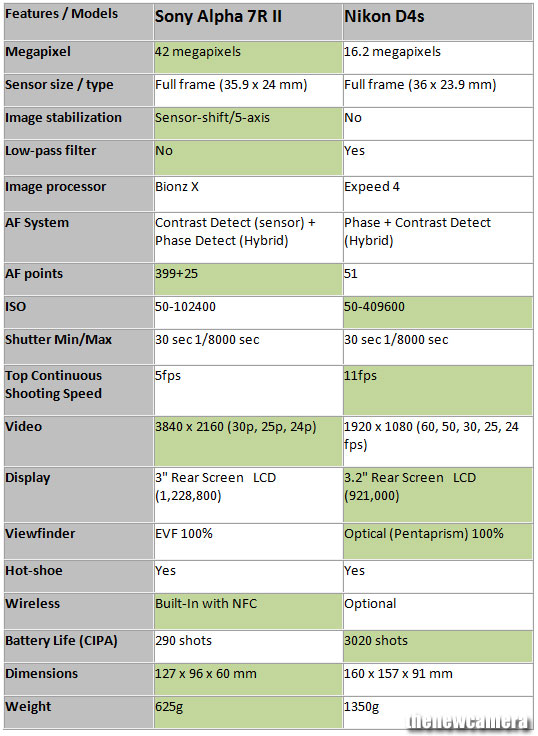 Megapixel:- The Sony Sony Alpha 7R II has 2.5 times more resolution compare to Nikon D4S and also it is based on the world's first back-illuminated sensor technology.
It's 42.4 MP Exmor R BSI CMOS Sensor and BIONZ X Image Processor is sufficient to lessen the noise production up to standard ISO and also helps to increase the processing speed.
Nikon D4S features FX-format 16.2MP CMOS sensor and EXPEED 4 image processor to produce high-resolution imagery. Due to the combination of both technologies, it offers a better image quality, accurate color reproduction in dynamic range.
ISO:- Sony A7R II has ISO range up to ISO 102, 400, due to high resolution and small size of photo diodes, the camera has less sensitivity range compared to the Nikon D4S camera.
As we know Nikon has pre-history of using high ISO range to its D-SLRs . Its native ISO of 25600 can be extended upto mind-blowing ISO 409,600 , which favors the shooters to shoot in dim or difficult lighting conditions. The architecture of 16.2MP FX-format CMOS image sensor supports it to collect more light and offers good quality image. It's EXPEED 4 processing towards to offer full resolution at shooting rate of 11fps for up to 200 frames.
Here the Nikon D4S has much higher ISO range comparative to Sony A7R II which make your decision very clear that Nikon D4s is more sensitive compared to A7R II.
Image Stabilization:- The Sony Alpha 7R II features 5-Axis SteadyShot INSIDE Image Stabilization .This system definitely gives more confidence to both the new users and the professional shooter. During shooting it solved the five types of problems from different directions faced during handheld shooting either still images or videos. It even excels the video recording by reducing the blur production during shooting the video in running or walking condition.
It not stops there it also give relaxation to the users about the selection of any type of lenses according to their need, they can even use adapted lenses from third party and can enjoy shooting without worrying about the blur.
This Image Stabilization system is absent in Nikon D4S.

AF Points:- Sony A7R II offers Fast Hybrid AF with 399 phase-detection AF points with additional 25-point contrast-detection AF points which is supported by its back-illuminated sensor and experience the users with its speed, accuracy and tracking performance of 5fps at 42.4MP.
The users can enjoy its razor-sharp clarity and faster readout of fast moving objects due to the new architecture of the back-illuminated sensor, 399 AF Points is designed in such a way that it covers 40% of the screen area. So the users don't get any single frame that misses AF on subject. It also includes other feature of Lock-on AF tracking through which the users needn't to keep the subject in the centre of the frame to keep in perfect focus, A7RII will do its job perfectly.
On the other hand, Nikon D4S features 51-Point Advanced Multi-CAM 3500FX AF Sensor in which it offers 51 distinct points and also different options are available to use 9, 21, or all 51 points depending on the situation. Despite of being a prime camera the Big and bulky Nikon AF system look inferior in front of the Sony A7R II camera.
So Nikon has to work hard to stay neck to neck in front of Sony to give the users the hassle-free experience of its Nikon D4S comparative to Sony A7R II.
Video:- Sony A7R II is the world's first fullframe camera which offers full pixel readout while recording the UHD 4K Video, plus you also get Sony's high quality XAVC S Format support. It's Fast hybrid AF with 399 phase detection AF points and 5-axis image stabilization which support the video to new height.
Nikon D4S supports full HD 1080p video at frame rates up to 60 fps.
The users can enjoy the 4k video of Sony A7R II which is produced by its full frame image sensor compare to the low impression made by the videos of Nikon D4S.
The other major disadvantage of a DSLR is contrast based AF system is active while recording the video, on the other hand Sony A7R II 399 AF points are always active, while you are capturing a still or recording a video.
Viewfinder and Display: These tow are are totally dependent on users choice, decide yourself whether you like a optical viewfinder or a EVF.
Connectivity: The Sony A7R II features WiFi and NFC connectivity, with the help of this feature you can connect easily with your smartphone or tablet that will allow you to use your camera from a distance, No such feature available in the Nikon D4s camera.
Verdict: Sony A7R II will cost you less compared to Nikon D4s and features ultra high resolution sensor, advance AF system that works while shooting still or recording a video , the camera also features built-in 5-axis image stabilization and records 4K video…. on the other hand the Nikon D4s features better low-light sensitive sensor but everything else is inferior compared to the Sony A7R II camera.

Yes we can't deny the fact that Nikon have a huge lens support, however the Sony A7R II lenses are bit limited.,

Based on Specification comparison review we highly recommend you to buy the Sony A7R II camera.
Sony A7R II available for pre-order at Amazon and B&H
Buy Nikon D4s from Amazon and B&H