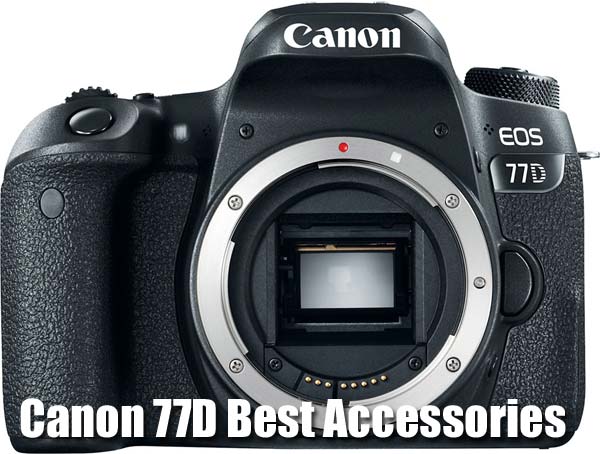 Canon 77D Best Accessories: I am here to tell you the best available accessories for the Canon 77D camera.  Canon 77D camera features excellent specification and the sensor of the camera directly coming from the Ultra famous Canon 80d camera.
1.Best Lenses
We have already written a very detailed guide for the best lenses of Canon 77D camera. The list of the lenses includes the best Mega zoom lens, best macro lens, best portrait lens, and the best all rounder lens that she may ever need to keep always on in your camera
Being said that, I want to Share the name of 3 lenses that will going to complete approx 90% of your requirements
Canon 70-300mm IS USM Lens: If you are looking for the best zoom lens for Canon 77D camera then Canon 70-300 mm USM lens is the best (w.r.t price and features an perfect combo).  The new version of the lens carries Nano USM some Motors inside it for FAST and silent auto focusing operation. One of the best zoom lens available for APS-C Sensor based cameras.
Sigma 18-35mm F1.8: I am sorry but I have to take the name of a third party maker and the name of the lens is Sigma 18-35 mm F1.8 lens. This is the best lens I have ever used with a Canon aps-c sensor. The lens features a constant aperture throughout the Zoom range. And one of the best available light lens available for your camera right now.
Canon EF-S 10-18mm lens Best ultra wide zoom in Canon is 10-18mm lens. The lens covers a very vital  range and perfect for shooting indoors and nightscapes. The best and affordable wide angle lens.
2.Best Memory Cards
SanDisk 64GB Extreme PRO SDXC UHS-I Memory Card: The most important factor while getting SD card is the read/write speed of card. I personally recommend you to get 64GB Memnory card Instead of getting a 32GB memory card. Since if you are shooting RAW images or recording High Quality HD videos then you're 32GB memory card will going to fill up quickly. So, I recommend you with for at least 64 GB memory card or you can even get 128 GB so you won't get memory card full msg in the middle of your shoot.
After 64 GB you have two options either you can get 32GB version if you are looking for an affordable card or you can get a 128 GB version (the best one).
Take an look at the table below of bets Memory card for you camera and their read and write speed
| | | | | |
| --- | --- | --- | --- | --- |
| Card Name | Capacity | Read Speed | Write Speed | Price / Buy from |
| SanDisk – 32GB Extreme PRO SDHC UHS-I Memory Card | 32GB | 90MB/sec | 95MB/sec | Amazon | B&H |
| SanDisk 64GB Extreme PRO SDXC UHS-I Memory Card | 64GB | 90MB/sec | 95MB/sec | Amazon | B&H |
| SanDisk 128GB Extreme PRO UHS-I SDXC Memory Card (V30) | 128GB | 90MB/sec | 95MB/sec | Amazon | B&H |
3.Best Battery Pack
Best Batteries : The battery life of your Canon 77D camera is 600 shots .That is after taking 600 shots from your Canon 77D camera you need to insert a new battery are you have to wait for at least 1 or 2 hours to get your battery fully charged. While shooting a event it is possible that you may cross the 600 shots limit anytime. And hence according to my suggestion you must keep extra battery with you to combat power shortage at un-even times.
Canon LP-E17 Lithium-Ion Battery Pack is originally manufactured by Canon and sold Canon authorized dealer B&H Photo.  The battery is compatible with you Canon 77D camera and highly recommended for anyone who owns this camera.
4.Best Tripods
Why you should you always have affordable as well as best tripod with you ? When it comes to image quality then it's not the sensor alone responsible for producing outstanding images. One of the most important accessories is tripod. While you're using IND neutral density filter or you are shooting a sunset, nightscape. You have to use longer shutter speeds to restore the quality of the entire subject. Tripod is the only option that allow you to take crips and clear shot despite of lighting condition or Type of IS systems you are having.
Manfrotto Compact Advanced Aluminum Tripod (Black) The best tripod available under $100 for your Canon 77D camera. The tripod is very light since it is made up of aluminium material and it's very compact and fit in very small camera bag also. For the price, you can't beat the quality of the tripod. Very solidly and work very well just like a pro Manfrotto tripod.
MeFOTO GlobeTrotter Carbon Fiber Travel Tripod The Best carbon fiber tripod for your camera, I have used both BeFree and Globe Trotter and the best on is Trotter. The reason why I am saying trotter is best because the overall operation of the tripod is very smooth and easy. The trotter is more stable with thick legs. Due to the use of High-End carbon fiber material the overall weight is too light and excellent for travel purpose.
Oben CTM-2500 – One of the best best Monopod I have ever used, it's really tall and can handle an plenty of weight. I have used my Canon 5D Mark IV camera with 150-600mm lens and even after such insane weight the monopod is very stable and helps a lot while you shooting wildlife shots. Excellent tool and must have accessories for an photographer.
5.Best Canon 77D Camera Apps
Canon camera connect App for android smartphones is one of the best App available to let you control your camera with smartphones and tablets. However it won't allow to use you all the settings offered by your DSLR camera. It allow you to transfer your images, Remote shoot with limited controls and select time and date from smartphone camera.
6.Remote control for Canon 77D
Canon BR-E1 Wireless Remote Control is the best remote control for your camera, Made by Canon and compatible with Canon T7i and Canon 77D camera. It's wireless working range is approx 5m. The BR-E1 remote is also compatible with Canon PZ-E1 power zoom adapter. So, you can control the amount of zoom of your new 18-135mm USM lens when connected with PZ-E1.
7.Best Camera Bag
Whenever someone talk about best, affordable and compact camera bag then only one thing comes' in my  mind and its name is LowproNova 170. The lowpro Nova is shoulder camera bag can carry your Canon 77D DSLR and 2-3 Lenses.The bad is rain proof hence you shouldn't worry about your equipment while traveling in adverse weather situation.
Lowepro Fastpack BP 250 AW II If you want bit more space then get Fastpack BP 250. This bag allow offers two different compartments. In which in one section you can put
A Macbook
Jacket
LunchBox
Water bottle
And in other section you can put
Your DSLR with attached Zoom lens
+ 3 More Lenses
The bag covers features built-in rain cover hence you don't have to worry about your equipment inside.
8.Best Flash
Canon have many speedlite flash units and its bit natural for anyone to get confused. Before we begin let me explain you canon gives specific number to every flash they make.
| | | | |
| --- | --- | --- | --- |
| 270EX II | 430EX II | 580EX II | 600 EX RT |
Canon 270EX II is mini flash light, easy to carry everywhere. Really helps when you need to fill-out flashlight in the entire situation. It can tilt up and own and hence you can get an bounce from ceiling. Do offer some pro function support like Canon wireless (light-based) signaling system.
Canon 430EX II is Highly Recommended for your Canon DSLR camera, Since it's very reasonably priced and offers extensive controls that a professional user may ever want. The 430 flash unit is very powerful and compact and easy to carry if your are planning for hours of photoshoot or adttending an event. The Flash can used as master to control flash units in multi flash setup. Highly recommended and best camera flash for Canon 77D camera.
If you are looking for an comptable third party flash that will be more easy on your budget, then you should go for Yongnuo Speedlite YN600EX-RT for Canon.
9.Best Video  / Continuous Light
One of the best continuous light I would recommend you for shooting video is Genaray LED-7100T 312 LED Variable-Color On-Camera Light . This particular light gives you enough amount of brightness, so you can shoot your video / images without any is issues related to available light.
The Other best thing with constant lights are you can predict what you are getting next. Many of the photographers around the globe use constant light in an event so they can easily compose the frame without worrying about presence of light.
Thanks for reading this article.
Do ask your question if you have any