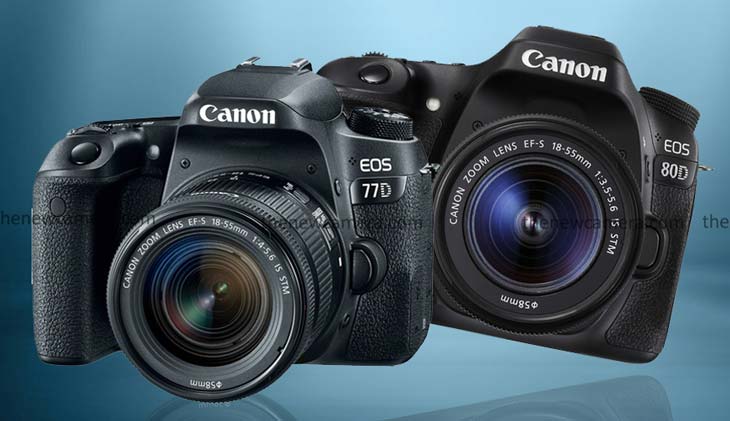 In short Canon 77D have same sensor as of Canon 80D and the additional advantage of Canon 77D is it features advance generation of image processor and hence you will get a better image quality then Canon 80D under a affordable price tag. But take a look the difference of both the camera in details
Canon 77D vs Canon 80D, Which camera should you buy ?
| | | |
| --- | --- | --- |
| Features / Models | Canon 77D | Canon 80D |
| Megapixel | 24 Megapixels | 24 Megapixel |
| Sensor size / type | APS-C (22.3 x 14.9 mm) | APS-C (22.4 x 15 mm) |
| Image processor | Digic 7 | DIGIC 6 |
| Low pass filter | Yes | Yes |
| Image stabilization | No | No |
| AF System | Contrast detect + Phase detect | Contrast + Phase detect sensor |
| AF points | 45 AF points | 45 points (all points cross type) |
| ISO | 100-51200 | 100-51200 |
| Shutter Min/Max | 1/4000 sec | 1/8000 |
| Top Continuous Shooting Speed | 06fps | 7fps |
| Video | Full HD 1080p @60fps | full HD 1080p @60fps |
| Display | 3.0″ 1.04m-Dot Vari-Angle Touchscreen | 3 inches 1.04 million dot Vari-angle LCD |
| Hot-shoe | Yes | yes |
| Battery Life (CIPA) | 600 | 960 |
| Wireless connectivity | Built-In | Built-in |
| Weather Sealed | No | Yes |
| Dimensions | 131 x 100 x 76 mm | 139 x 105 x 79mm |
| Weight | 532 g | 730 g |
Design Difference:
Overall Difference: Before we begin let's see that design difference between these two camera. The Canon 77D camera looks exactly similar to Canon 80d camera if you look from design perspective.  but if you're going to take for the camera in your hands then you are going to see that Canon 80D is little heavier and bigger than Canon 77D.
Less Weight: The Canon 77D body is approx 190 grams lighter than the Canon 80d body. I always prefer lighter camera's with bright aperture lenses for shooting an event. Heavy camera can cause serious hand pain at the end. Since, you can't stop your shoot in the middle despite of having weight pain.
Top LCD in 77D: On the top side of Canon 77D then you do have the TOP LCD display unit as you have seen in Canon 80d camera.  But you should also know that few manual controls are missing from Canon 77D when compared to Canon 80d camera.
Features Absent in Canon 77D
Few Physical Buttons on the Top are missing: If you have used Canon 80d then the first thing you will going to notice in canon  77D camera,  just after that of LCD screen that small AF button is missing. The Canon 80d camera allows you to select single shot autofocus, or AI Fous or AI servo easily.
The next button  you're going to miss in canon 77D camera is auto focusing area selection button, present in between the mode dial button and the shutter button of the camera in canon 80d DSLR. Well, this button button allows you to select the desirable AF area of your screen quickly. well you can also do in the Canon 77D camera since it do offer touch screen while shooting at live
Pentaprism is absent: To reduce the making charge of the camera canon added a Pentamirror viewfinder inside the Canon EOS 77D whereas the Canon 80d camera features Pentaprism viewfinder which are generally Brighter and costly than pentamirror viewfinder. The Canon 77D coverage decreases up to 5% which is not detectable with a new man eye. But it's also fact that Canon 80d features better viewfinder compared to Canon 77D.
Environmental Sealing is also absent in Canon 77D camera, hence you to be careful while using camera in rain or dust.
Headphone port also missing in 77D: You will going to miss headphone port in the Canon 77D camera The Other major thing that you will really going to miss is environmental Seailing in Canon 77D camera.
Longer Battery Life in 80D
After design part comparison we should talk about the battery life of both the DSLRs. Battery life is really important isn't it. Canon 80d camera offers and 960 shots where is cancel 77D camera offers 600 shots battery life. Now consider if you are shooting an event and your camera and dies after 600 shots, what you are going to do? it is a big problem isn't it.  So, whether in 960 shots of 600 shots, you will never going to guess the amount of images you are going to take in a particular event. My recommendation is to always keep active battery pack with you . For Comparison point of you Canon 80d offer better battery life compared to its competitor.
If you think that you are really going to miss these features in the Canon 77D camera and that already available in Canon 80d camera.
Canon 77D carry a Different Sensor ?
Every website saying that saying that Canon 77D features same sensor as of Canon 80d camera, is it really true? let's find out.
Sensor: If you look at the physical sensor size of both the DSLR. Then you will going to notice that the sensor size of the Canon 77D camera is bit smaller than Canon 80D sensor size. And due to the difference in sensor size the sensor pixel area of Canon 80d is approx 7% larger than the sensor pixel area of Canon 77D camera.
Shooting Speed: Yes there is a slight difference in continuous shooting is speed up for the camera.  canon 80d offers 1 FPS faster shooting compared to Canon 770. Canon 80d can shoot 7 frames per second whereas Canon 77D remains limited to 6 frames per second.
Canon 77D offer better ISO Range: Now before we discuss the maximum ISO range difference between both the DSLR. Let me inform you that I have seen the highest test images of both the camera and I am not able to spot any with difference between them despite of being a professional photographer from 10 years. If you look at the specification sheet of Canon 770 camera it offers a user range upto 51200 where is Canon 80d Raymond limited to 25600 ISO range.
Now let's talk about the usable ISO range of these types of APS-C sensor camera for professional. Believe me you can't go beyond ISO 6400 or more for professional use in both the camera.  After that you will going to witness noticeable amount of noise in the images and that increases with every stop. Practically Canon 77D offer one stop more high ISO range when compared to Canon 80d. But when you going to compare High ISO test images of both camera you barely notice any difference between them.
Price Difference: The Canon 80D will cost you $100 more, it's not too high when you are getting lot's of feature with the camera.
Conclusion:  If you don't need environmental sealing, microphone port and longer batter, then Canon 77D is the best camera for you right now. You should go and buy the affordable 77D pro camera since the image quality of both the DSLRs are exactly same. You can spend $200 on getting 50mm F1.8 STM lens for shooting portraits. Also see best lenses for Canon 77D here
Buy Canon 77D camera
Buy Canon 80D camera  Amazon || from B&H
PS: If you are on tight budget and want a camera that produces similar image quality as of Canon 80D then you should get Canon T7i camera, since why you want to save only $200, getting T7i will save will save approx $350. In that amount you can get a better lens for your camera.