Nikon D3400 vs Canon 750D / T5i – specification comparison between Canon 700d also known as t5i hand Nikon recently announced entry level DSLR D3400
Many user asking of the same question again and again do they get the 700d DSLR or move towards D3400 ? which one is actually better ? so we have done and specification comparison review in-detail to reveal which one is actually better and which one should you get right now
| | | |
| --- | --- | --- |
| / Models | Nikon D3400 | Canon 700D |
| Megapixel | 24 megapixels | 18 megapixels |
| Sensor size / type | APS-C (23.5 x 15.6 mm) | APS-C (22.3 x 14.9 mm) |
| Image processor | Expeed 4 | Digic 5 |
| Low pass filter | No | Yes |
| Image stabilization | No | No |
| AF System | Contrast + Phase Detect sensor | Contrast Detect +Phase detect |
| AF points | 11 points | 09 points |
| ISO | 100-25600 | 100-25600 |
| Shutter Min/Max | 30sec 1/4000 sec | 30 sec 1/4000 sec |
| Top Continuous Shooting Speed | 5fps | 5fps |
| Video | 1920 x 1080 (60p,24fps) | 1920 x 1080 (30, 25, 24 fps) |
| Display | 3.0″ TFT- LCD Rear Screen (921K pixels) | 3.0″ fully atriculated LCD Rear Touch Screen (104K pixels) |
| Viewfinder | Optical Viewfinder (95%) | Optical Viewfinder (95%) |
| Hot-shoe | No | No |
| Battery Life (CIPA) | 1200 shots | 440 shots |
| Wireless connectivity | Built-In, Nikon snapbridge | Eye-Fi connected |
| Dimensions  | 124 x 98 x 76 mm | 133 x 100 x 79 mm |
| Weight | 395g | 580 g |
Sensor: Nikon D3400 camera sensor is slightly larger than the sensor of Canon 750D / T5i. The Nikon D3400 offers 24 MP sensor and Canon remains limited to 18 MP. The ISO range of both the camera is exactly same. That clearly means the low light performance of both the camera is expected to remain same
Absence of low pass filter inside the Nikon D3400  – As we know that Absence of low-pass filter gives you more details while you capture a image. Canon 700d / t5i does have low pass filter inside it and it won't give you details as much as Nikon D3400 is able to produce since we have two disadvantage associated with Canon 700D/ T5i camera 1. Low resolution compared to Nikon D3400 DSLR and presence of Low-pass filter.
Advance Phase AF Module – Nikon D3400 features bit advanced auto-focus system compared to Canon 700d / t5i. The Nikon D3400 features 11 point phase detect AF system where is the 700d features 9 Phase detect AF system.
---
Hybrid CMOS autofocus sensor inside the 700d will help you to focus quickly while shooting with live-view or recording a video.The Hybrid CMOS AF sensor of the 750D /T5i camera features built-in Phase AF pixels that will help you to acquire AF quickly while you are shooting still while using live – view display or recording a Video.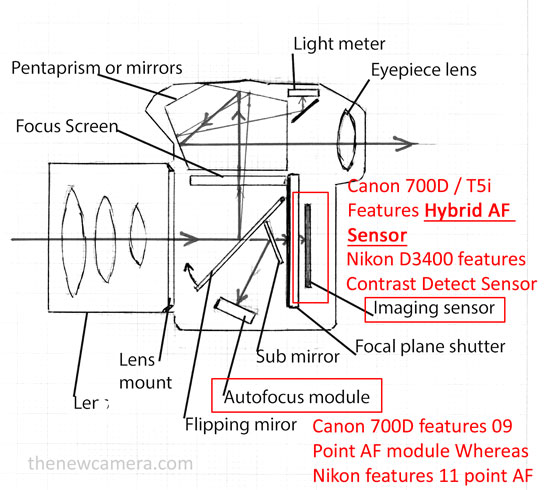 The Nikon D3400 camera comes with traditional contrast detect sensor that won't help to focus quickly while you're using a live view display or shooting a video, its contrast based auto-focusing system will get activated and Phase AF get disabled when you will use the live-view display or video-mode resulting slow and sluggish auto focusing performance. Hence the 700D / t5i DSLR from Canon features of better auto-focusing system compared to the Nikon entry level DSLR d3000 400.
---
Rest of the Core specification of both the DSLR remain same, both camera have approximately speed, ISO range of both the camera is approx same. The top continuous shooting speed of  DSLRs is exactly same, both camera will give you 5 frames per second continuous shooting speed when you're using DSLR in sports mode. But keep in mind that Nikon D3400 capturing 24MP images @ 5 frames per second whereas 700D capturing 18MP images @ 5 frames per second.
Nikon D3400 camera camera Office full HD recording at 60 frames per second whereas  the Canon remains limited to 30 frames per second while recording a full HD video.
Auto focusing performance while shooting a video despite of offering a bit less frames in a video mode the Canon 700d / t5i will perform better since it uses a hybrid CMOS AF sensor will lock AF quickly compared to Nikon D3400 camera.
Battery Life: The battery life of new entry level DSLR from Nikon is way better compared to Canon 700D, the Nikon D3400 offers 1200 shots in a single re-charge whereas the Canon 700D / T5i offers 440shots in a single recharge.
The Nikon D3400 features built-in WiFi for easy file transfer, the D3400 is also light-wight and bit smaller.
Conclusion: Nikon D3400 will give you better image quality compared to Canon 700D / T5i since the camera features new 24 MP CMOS sensor with absence of low-pass filter, If we look at AF system then Canon 700D / T5i does have upper hand due to Hybrid AF sensor and it will give you fast AF performance while shooting with Live-view and video.  Other advantage include Built-in WiFi, light weight and bit small.

For beginners we recommend you to go with Nikon D3400, Since Nikon will give you better image quality as well as 60fps option in Full HD mode.
Nikon D3400 form B&H || Amazon
Buy Canon 700D from Amazon US | Amazon UK
Also see – Canon 700D Recommended Lenses