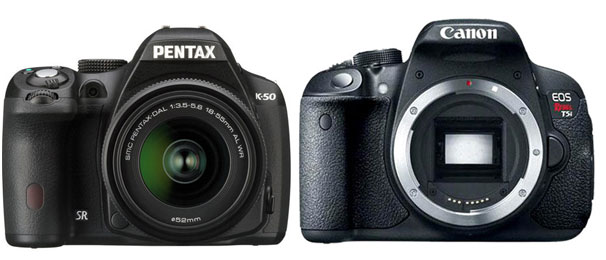 Take a look between the comparison of Pentax K-50 and Nikon Canon EOS 700D, the Pentax K-50 features 16.3MP APS-C CMOS Sensor and ISO 100 to 51600 on the other hand Canon EOS 700D features 18 million pixel sensor and ISO range is equivalent to ISO25600 100-12800, extended sensitivity, take a look at the Major Specification Below.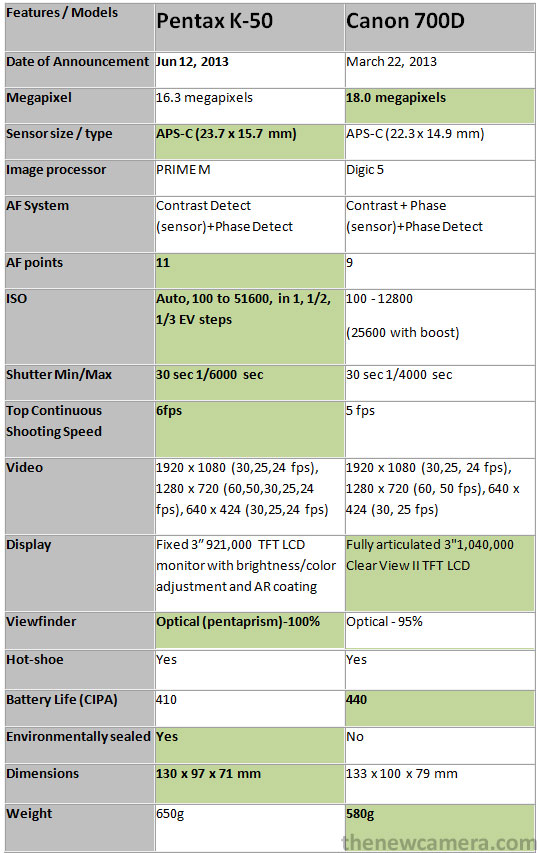 Sensor
The combination of the 16.3 megapixel APS-C-sized CMOS sensor and PRIME M image processor is able to produce high resolution imagery with notable quality and low-light sensitivity to ISO 51200.
18MP CMOS sensor features 18 Mp sensor and Digic 5 image processor, the upper ISO limit of Canon 700D is limited to 25600 only.
AF System:
Pentax K50 features SAFOX IXi+ AF system utilizes 11 focus points, including nine cross-type sensors, to quickly and accurately acquire focus using a phase-detection method.
Canon 700D features 9-point all cross-type AF system (including a high-precision dual-cross f/2.8 center point).
Pentax features bit fast continuous shooting speed – 6fps, canon is limited to 5fps.
Display: With Canon 700D you get fully-articul
Environmentally sealed body – Canon 700D doesn't have Environmentally sealed body, but Pentax K-50 features weather-sealed polycarbonate body with stainless steel chassis affords a wealth of protection to camera and enables its use in a wide variety of conditions, ranging from rain and humidity to snow and frigid temperatures.
Verdict: Pentax K-50 features better ISO range, advance AF system and Environmentally sealed body under $800 with kit lens, We recommend you to buy Pentax K-50
Buy Pentax K-50 from Amazon |