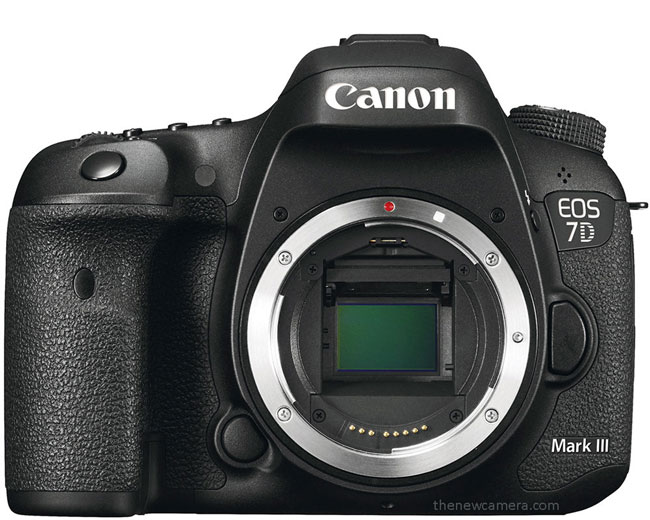 We are talking about the Canon 7D Mark III camera this time and its possibility for having a completely brand new sensor and Digic 8 image processor.
New Sensor and Image Processor
In general if Canon and announces of flagship camera the uses a completely new sensor as well as image process by date.
So, we have already seen the latest generation of Canon image processor introduced with Canon EOS M50 mirrorless camera. The image processor is super fast, it is able to process 24 megapixels of files @ 10 frames per second. And with the help of superfast image processor the Canon EOS M 50 become the first mirrorless camera in canon to feature 4K video recording.
Next Generation of DPAF  Tech
Canon is continuously working to improve its Dual Pixel CMOS AF tech more and more. We have seen patent documents that clearly indicated and more fast and accurate DPAF [see here and here]. And not only that we have also received hints in that past, that Next 7D Series camera will improved DPAF compared to 7D II and Canon 80D.
Canon 7D Camera with New sensor And Dual Digic 8
We have seen the trend of Canon flagship 7D series camera, in general carries a completely new sensor as well as dual set of image processor. The existing 7D sensor performance is even worst than of Canon 80D.  And all these silently confirm us that next generation of Canon 7D series camera brand new image sensor and Dual Digic 8 Image Processor.
Take a look at the updated core specs of the 7D Mark III camera, based on the information we have and our expectations.
Canon 7D Mark III Update Core Specification
24 megapixels with improved dynamic range and low light performance compare 80d DSLR camera.
Next Generation of Dual Pixel CMOS AF Tech
And with the introduction of Dual Digic 8 image processor.
Continuous shooting up to 20 frames per second with the help of Electronic shutter.
14 FPS with AF tracking
low light performance up to ISO 102400 / 204800.
Introduction of 4K in canon 90d with dual pixel CMOS AF support.
New generation of RAW as well as C-RAW files as it has been introduced with Canon EOS M50 camera
Rear Variangle LCD screen.
Higher Resolution Sensor isn't a good choice for 7D III
Many other website are talking about higher resolution sensor all because of 5D Mk IV arrived with a 30 MP sensor.
Chances of having more MP sensor is high, since in general the 7D series is said to be 5D series camera with APS-C sensor. This time we have a 30MP Canon 5D IV camera in our front. So, yes there is a possibility of 28-30MP APS-C sensor in next flasghip model.
But as we all know that Canon Sensors Dynamic range as well as low-light performance look bit inferior when we compare with Sony Mirrorless (Not SLT) as well as Nikon DSLRs (Most of Nikon DSLRs uses Sony sensor).
So, increasing the resolution will make it situation more worse, since when you have more megapixels the pixel area becomes small hence we get limited low-light performance and reduced dynamic range.
That's all for now.
So these were our updated list of expectation with the Canon 7D Mark III camera. Do share your wish list with us.
Also see – Canon Mirrorless Prototypes Information Leaked
Stay with us FACEBOOK | TWITTER | GOOGLE+ to get live news + Canon rumors 24X7