Samsung may announce new NF1 soon, the first rumored specification of upcoming Samsung NX NF1 camera surfaced over the web today the camera will  feature same 20mp APS-C sensor as previous models and ISO range limited to 12800 only, take a look at the rumored specification below.
Samsung NF1 Rumor
1. 20 MP APS-C CMOS Sensor
2. DRIMe 4 processor
3. Shutter Type mechanical and electronic (max speed upto 1/16000)
4. Display will be same as screen similar to the MV800′s reverse LCD screen (as shown below)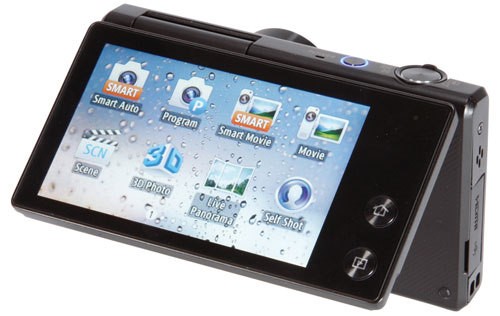 5. Full HD 1080p video recording.
6. Ultra Slime body design
We also got hints that Samsung is ready to announce new series of lenses (possibly high grade), Stay with us on Facebook and Google plus, more update coming soon. | See more Samsung Rumors