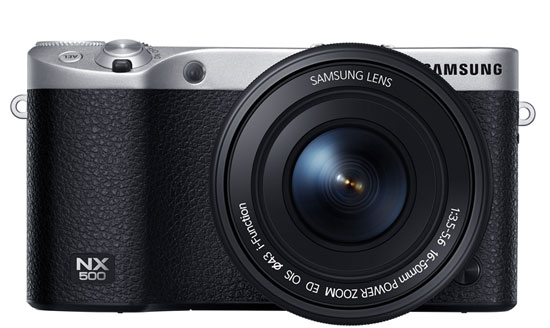 A new firmware update issued by Samsung for NX500 camera, the camera get significant improvement in the AutoFocus system and video mode.
The AF speed is boosted all the way, you will now notice quick AF performance under extremely low low-light environment, during face detection and in Movie mode. Samsung also added a new Zone AF mode that will let you choose AF area sizes, the Face detection area sensor is now also enlarged.
The Video mode get a turbo boost from Samsung, Now the NX500 can record videos up to 25 minutes and you can now enjoy bit rate for 4K video up to 70Mbps, the Samsung NX500 now reads more pixels while recording video that will improve 1080/60p video quality.
The Update Can be downloaded below via Wi-Fi on the camera or with Samsung's iLauncher software.
Take a look at the details below…
Press release:
Still Photo Enhancements:
Improvements to the overall Auto Focus:

Enhanced AF performance in low light condition
Enhanced AF performance in backlit and spot light
Enhanced AF performance in the corners when utilizing 16-50mm PZ lens
Enhanced Face Detection AF performance
Enhanced AF performance in movie mode

Added "Zone AF" mode
Increased the size of AF to 5 steps in AF "Area Size"
Increased the Face Detection Area of the sensor
Includes 4 most popular Pro Suggest presets (Cinematic, Memories, Gorgeous night, & High Speed)
Added "Selfie as Flipped" mode

The image is flipped to capture as in the preview.

Improved "Selfie" AF function in Timer mode
Continuous AF is default in "Selfie Timer."
Simplified EXIF data preview
Video Recording Enhancements:
Added "Pro" mode in movie quality and increased the bit rates for movie size and quality (up to 70Mbps)

Movie Recording Time changed to 25 minutes at FHD 60P/50P

Larger sensor read out data size with improved FHD quality up to 60P
Remains in Stand By mode after recording
"1280×720 (120P)" setting in the Movie Size Menu for easy access

Sound recording is available

Capture individual 4K frame forward & backward with precision

Embedded EXIF data in jpeg

Added NEW MF Responsiveness mode

Capable of setting to Low, Medium, High focus angle in manual focus mode