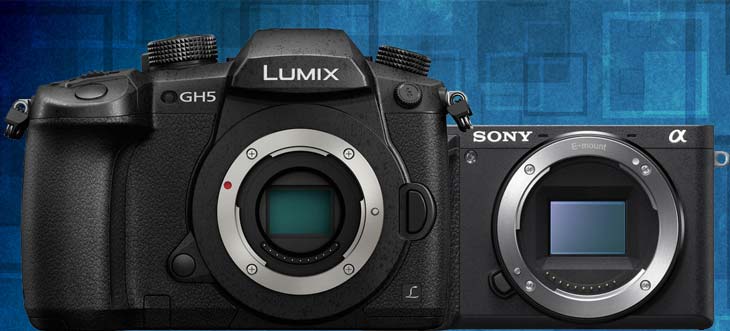 Panasonic GH5 vs. Sony A6500 – Specification comparison between the two flagship camera will tell you the exact difference of both.
Features / Models

Panasonic GH5

Sony A6500


Megapixel

20 megapixels

24.2 Megapixel

Sensor size / type
Four Thirds (17.3 x 13 mm)
APS-C (23.5 x 15.7 mm)
Image processor

Venus Engine
Bionz X
Low pass filter
No
Yes
Image stabilization
5-Axis
5-axis
AF System
Contrast detect sensor
Contrast detect+Phase detect
AF points
225 points
Phase Detection: 425
Contrast Detection: 169
ISO
100-25600
100-51200
Shutter Min/Max
60sec 1/16000 sec
60 sec 1/32000 sec
Top Continuous Shooting Speed
12fps
11fps
Video
4k @60fps
4K @ 30 fps
Display
3.2″ 1.62m-Dot Free-Angle Touchscreen
3.0″ 921.6k-Dot Tilting Touchscreen LCD
Hot-shoe
Yes
yes
Battery Life (CIPA)
410 shots
350 shots
Wireless connectivity
Built-In,
Built-In + NFC
Dimensions

139 x 98 x 87 mm

120 x 67 x 53 mm

Weight

725 g

453g
Sony A6500 camera features a APS-C CMOS sensor whereas the Panasonic GH5 features a 20 MP 43 sensor.
Sensor Comparison
The first difference between these two camera we notice is sensor size. The Sony A6500 camera features APS-C size sensor and hence bigger sensors are intend to capture more light and deliver better image quality. I do admire the wonderfulness of Panasonic GH5 core specification before the beginning of this article but at the same time if you are a still shooter you have to think twice before buying 4/3 sensor based camera instead of APS-C. Before we move to further discussion let's take a deep look inside the sensor and other core specifications.
ISO Difference
We can't ignore the ISO difference of both the camera. The Sony A6500 camera features more ISO range (1 stop more than GH5) which will sure help you to get cleaner images in low-light environment. Not only that the 24 MP sensor will help you to drag out more details in your images compared to a file of 20MP created by GH5. Above all the one big and noticeable advantage Panasonic GH5 have is absence of low-pass filter.
Pixel Area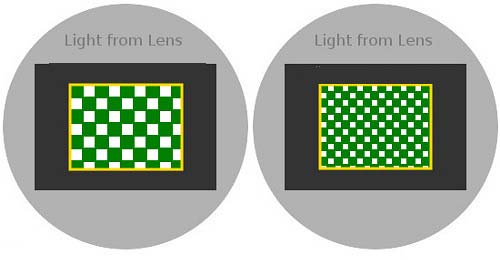 As we know that the Sony features 24MP resolution but despite of that each sensor pixel area of Sony A6500 is 15.28µm2 Compared to the sensor pixel area of Panasonic GH5 which remains limited to 11.16µm2.
So the pixel area of Sony A6500 is more, we have bigger sensor and A6500 is also giving out options for more ISO range. Hence we recommend Sony A6500 i your prefer image quality
AF System
The Sony 6500 features 425 phase AF points and 169 contrast detection areas for precise focusing whereas the Panasonic GH5 features 225 focus areas. Now, if we compare only the Phase AF points of A6500 with GH5 then we have 200 more focus points in A6500. More AF points helps you to cover the entire frame of the screen and won't let your subject go away from the tracking AF.
DFD AF System of Panasonic GH5
Now let's see that type of AF system with camera uses the Sony 6500 camera uses hybrid autofocusing system where is the Panasonic GH5 uses contrast detect sensor and dedicated DFD AF system. The DFD system uses a dedicated piece of hardware that help to boost the auto focusing speed of a contrast detect sensor to a next level. The DFD AF system engine is a specially designed and developed by Panasonic engineers. And hence with the help of DFD AF the GH5 can track and AF even while shooting at 12 frames per second.
4D AF System in Sony A6500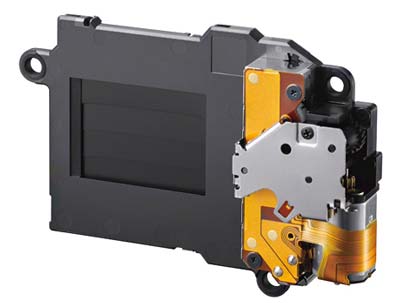 Sony 6500 uses 4D autofocus in system. The 4D AF system enables to captures moving subjects even in 11fps. The 4D autofocusing system is world fastest among interchangeable lens digital cameras equipped with APS-C image sensor, now what actually happens in 4D auto focusing system the camera calculates the subject Movement and predict the and pre-focus the subject next position in time resulting secure AF on subject.
If you look at the auto-focusing is speed of both the camera then according to the claims made by both companies the auto focusing speed of both the camera is as low as 0.05 second.
It is very interesting that a with a contrast detector sensor and DFD the GH5 will support AF in 12fps Burst frame rate whereas Sony A6500 is not behind GH5 and captures 11 FPS Burst with AF.
Video
I am not video guy but the basic difference I noticed between the Panasonic GH5 and Sony a6500 is that Panasonic GH5 and shoot 4K videos @ 60 frames per second where is the Sony 6500 remains limited to 4K Mode @ 30 frames per second.
The Panasonic GH5 offers a direct HDMI port for high-quality output at 4:2:2 10-bit in all settings for use with external monitors and recorders. The Panasonic also offers 2.5x slower in 4K (60 fps) and 7.5x slower in Full HD (180 fps).
Post Focus
Yes, The Panasonic GH5 Camera can focus later in Post Focus Mode. You can grab still images and later you can select your AF points like a light field camera. Sony A6500 doesn't have Post AF Mode.
Other Features
That A6500 Doesn't Have
The Panasonic GH5 features longer battery life (410 shots vs 350 shots), The GH5 also carry a dedicated Headphone port that A6500 isn't have. The Panasonic GH5 also features 6K and 4K Photo modes, that means you can grab out continuous 8MP stills at a 60 or 30 fps shooting rate or 18MP stills at a 30 fps shooting rate.
Features that Panasonic GH5 Doesn't Have
Panasonic GH5 is missing NFC, whereas the Sony A6500 features NFC and ones you install the play memories APP in your smartphone all our images will get transferred in no time and you can fully control the A6500 with your smart device by using the APP. Physically the Sony A6500 is more compact, light weight and easy to handle.
Price
Sony A6500 ( $1398) is Affordable Compared to GH5 ($1997)
Verdict:
Panasonic GH5 is undoubtedly one of the best consumer cinema Mirrorless camera available right now. And not only video the GH5 also have very attractive specification for those who shoot still images, However Sony A6500 Camera features bigger sensor with more resolution and and better ISO range. The density of AF points is also more dense compared to GH5 and above all you save $600 if you buy A6500.

Our recommendation, if you are a still shooter the go with Sony A6500 camera and if you want best 4K mirrorless camera then your should pick Panasonic GH5.
Also see – Best Lenses for Sony A6500
Panasonic GH5 available at Amazon | B&H