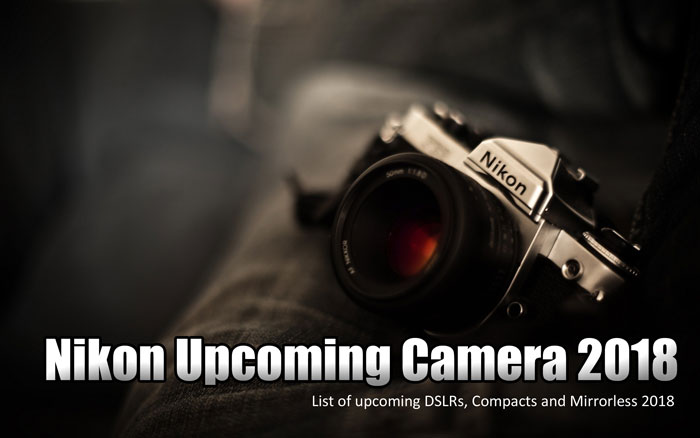 We have created a post the contains list of all possible Nikon Upcoming Camera 2018. After the announcement of Nikon D850 what next big announcement we can expect from Nikon ?

Nikon D760 – One of the most sold Nikon camera is waiting for an upgrade form past year. We do expect Nikon will announce this camera at Q1/Q2 of 2018. Based on the information we have received by anonymous mailers Nikon D750 may feature Hybrid sensor and 4K.
Nikon D650 – We do believe that the upcoming Nikon entry level Camera name will be Nikon D650 and not D620. the Nikon D650 was announced on October 2013 and over due for an update and we do expect the Camera will arrive with 24MP FX sensor and advance core specification compared to its predecessor. Introduction of Hybrid sensor and 4K video is expected in the upcoming model. We will bring more updates for sure as we get any new information.
Nikon P1000 – Nikon P1000 is rumored to arrive with a 125X Mega zoom lens and completely new sensor inside it. Not only that Nikon also registered a compact camera at wireless certification agencies with model code N1622.
Nikon D3500 – We are almost confirmed about the announcement of the Nikon entry level DSLR in 2018, but at the same time we also suspect that Nikon is delaying the camera to bring out some serious specification inside it.  At the moment we can confirm one thing the camera will have 24 MP DX sensor inside it, the predecessor Nikon D3400 have a  traditional contrast detect sensor.
Nikon Fullframe Mirrorless – The announcement time of Nikon Mirrorless camera is Sept of 2018. During Photokina 2018 show. Nikon is expected to announce at least 1 or 2 different variants of Mirrorless camera. On Oct 2017, we have received some reports that upcoming Nikon Mirrorless camera will use 45.7MP FX-Format BSI CMOS Sensor from D850.
Nikon D5s – A new high end model is expected to arrive on Jan 2018. The specification of the camera isn't know yet. We will update you soon as we get any new information – Click here for more
Nikon D6 – Nikon D5s announcement was expected on the beginning of the year, but it's look like Nikon postponed the announcement of Nikon D5s camera, due to the strong market competition they may trim down the life of their flagship Nikon D5 camera and we may see Nikon D6 before the 2020 Olympics, possibly in the photokina event of 2019.
Nikon N1710 and Nikon N1711
Nikon Registered to new models that is expected to arrive on 2018. The model codes are N1710 (more details) and N1711 (more details), we are sure these models code are of interchangeable lens camera, possibly Mirrorless since the model code pattern is bit different from the regular DSLR ones. As we have told you in the begining of the article we are expecting the announcement of Nikon Mirrorless camera on Sep 2018.
Stay with us on FACEBOOK | TWITTER | GOOGLE+ to get live news + Nikon rumors 24X7