Nikon Registered a new digital camera at wireless certification agency. The camera model code name is N1711, now we have a total of three different Nikon camera models registered at Wireless certification agencies. Take a look at the list below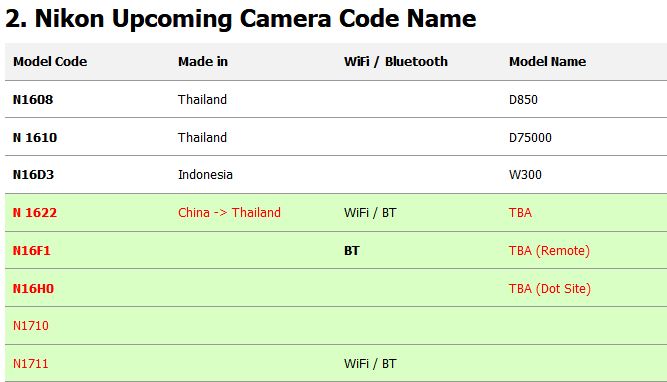 Click here to view the upcoming model codes
N1711 is a new model added to our list of upcoming cameras. We also have Nikon N1710 model in our list, the N1710 name was first spotted on Feb of 2018. Both models starting from N17XX (N1710 and N1711) are rumored to be Nikon mirrorless cameras expected to arrive on or before the Photokina event 2018.
As you can see N1622 was a compact camera whose manufacturing unit was shifted from China to Thailand, we believe that the N1622 is actually successor of P900 camera. (See more details here) What is dot Sight accessories ? See Olympus Dot Sight Accessories for OM-D E-M5 Mark II or Stylus 1 Camera.
The next N16F1 is a wireless remote control and just after that we have the NikonN16H0, dot site accessorizes for Nikon megazoom camera.
Follow us on Facebook Group LIVE RUMORS and updates
Stay with us on FACEBOOK | TWITTER | GOOGLE+ to get live news + rumors 24X7