Canon is finally ready to announce Fullfarame mirrorless and APS-C sensor based mirrorless camera ? take look below to find out more details…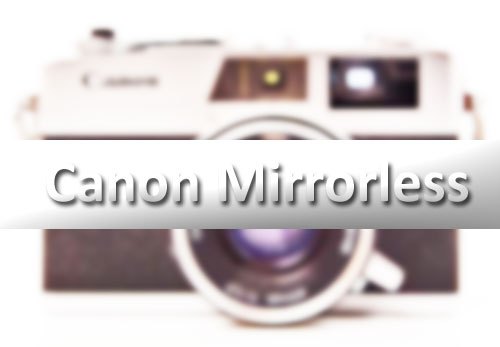 According to the tipster of CanonRumor Two Mirrorless camera are coming, one wll have APS-C and the other will have Fullframe. We are starting with Canon APS-C Mirrorless camera and later we will discuss Fullframe Mirrorless along with a short analysis of overall rumor.
Canon APS-C Mirrorless Rumor
Canon EOS M4 – APS-C Mirrorless Camera with 80D Sensor: One of the camera will be a follow up of current Canon EOS M3 camera, the name is not confirmed yet but the camera may be called Canon EOS M4 or M10.
The camera will have a major upgrade over the current Canon EOS M3 camera, upcoming Canon EOS M4 will use Canon 80D Dualpixel CMOS AF Sensor and advance core specification compared to the current EOS M3 camera.
Canon Fullframe Mirrorless Rumor
Canon Fullframe Mirrorless Camera With Dual-Pixel Technology: Canon Fullframe Mirroless camera is also rumored to announce along with the Canon EOS M3 Successor. The Canon fullframe mirrorless camera will be Canon's first "Prosumer" focused mirrorless camera.
According to the tipsters of Rumor mill the upcoming Canon Fullframe mirroless camera will feature 24 MP Fullframe sensor and will use EF Lenses.
A Short Analysis of the Rumor Rumor look bit logical to me since Canon itself confirmed several times that they are working on a fullframe mirrorless camera. But, the Most annoying part of the rumor is "tipster suggest that upcoming FF mirrorless camera will use Canon EF lenses".
I think Tipster forget to think that the flange distance of DSLRs are more than Mirrorless. Since DSLR lenses are heavy / bulky and optimized for DSLR body that carry a Moving mirror in-between the Sensor and the Lens.
The overall flange distance (distance between lens and sensor) of a DSLR is more compared to a mirrorless camera . Due to the difference in flange distance of DSLR and mirrorless camera, the DSLR lenses can't be used directly with the mirrorless camera without proper lens adapters and if Canon announces such a mirrorless camera then it will sure become a running joke among photographers.
Canon already have Fullframe Mirorless patents that we have published a while ago, you can look it here.
Take this rumor with a grain of salt.
Also take a look at – Canon to Showcase to 8K Camera and Display on NAB 2016
STAY WITH ON FACEBOOK | TWITTER | GOOGLE+ to get live news + See all Canon Rumors 24X7+