A new product registered at Chinese MIT certification agency by Sony Corporation . From the model name it is clearly visible that the next product WW 361847 is going to A7 series full frame mirrorless camera. You can also see the series of product having WW 3xxxxx in its code name specifically belong to mirrorless cameras Group. Take a look at the screenshot below.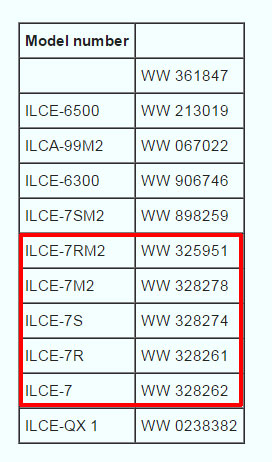 Japanese Website nokishita also said
Since Sony is often announced within two months after being registered with China MIIT, I would like to expect that a new model will be announced in the near future.
The product was registered on Feb of 2017 and hence we can expect it's announcement on April of 2017.
On January 25 we have published a article Earlier it was expected that Sony will going to announce Sony A7III camera soon, So, there is possibility that Sony A7III camera will arrive in next 1 to 2 months from now.
Also don't forget that Sony SLT A77 III is also coming in near future with butil-in 5 axis IS and 4K video.
We will update you soon as we get any new information, stay with us (FACEBOOK | TWITTER | GOOGLE+) If you have time –> see more Sony Rumor