We have heard that Olympus said they have reached the physical limits of camera image stabilization till date. But they didn't stopped yet, According to the latest patent (Pub. Date: Jan. 19,2017 ) they are working on improving the hybrid image stabilization system camera.
Patent Details
CAMERA SYSTEM, BLUR CORRECTION METHOD THEREFOR, CAMERA BODY AND INTERCHANGEABLE LENS
Applicant: OLYMPUS CORPORATION
Pub. Date: Jan. 19,2017
Filed: Jun. 14, 2016
Pub. No.: US 2017/0019600 Al
Description from patent document (Translated from Japanese)
A camera system including an interchangeable lens and a camera body, in which the camera body includes: a Roll blur correction range setting unit that sets a blur correction range in Roll directions of the camera body to be 81 when the interchangeable lens mounted on the camera body cannot perfonn blur correction (in the Pitch directions and the Yaw directions) or that sets the range to be 82 (",81) when the interchangeable lens can perfonn blur correction; a PitchYaw blur correction range setting unit that sets blur correction ranges in the Pitch and Yaw directions of the camera on the basis of the set blur correction range in the Roll direction; and a blur correction ratio calculation unit that calculates a blur correction ratio of each of the interchangeable lens and the camera body when both of them perform blur correction.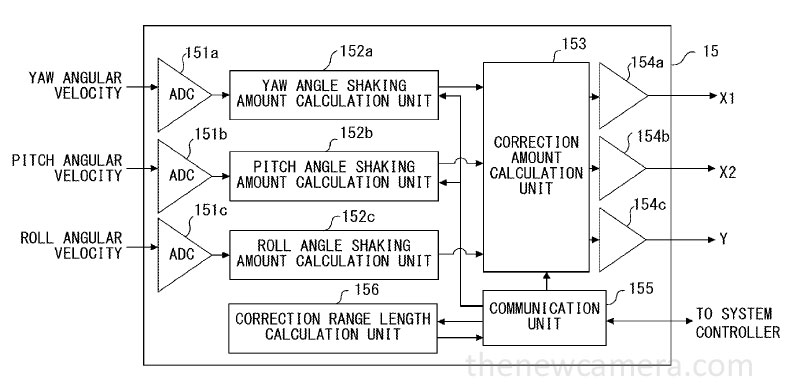 From the patent image (above) you can clearly see olympus is working on improving Lens and camera Image Stabilization correction and calculation unit that is connected to Blur correction Micro Computer.
Olympus is pioneer in making Hybrid IS system based camera and lens units. Olympus E-M1Mark II camera was announced on September 20th, 2016. The IS system working inside the camera is industry best. Many photographers does reported the the camera when combines with some specific lenses gives you 6 stops of shake correction.  Also look at this article here.
Get Olympus E-M1 Mark II   B&H  | Amazon.com