Sony will announce new cameras on Oct 16, 2013, the announcement include two Sony fullframe mirrorless camera and one 1 inch sensor compact RX10, Earlier there are some rumors about RX10 is coming with APS-C sensor, but according to latest rumors [almost confirmed ] the RX 10 features in 1 inch sensor only, but the good news is it will arrive with FIXED F2.8 24-200mm zoom lens . The price of RX10 compact is approx $1,298.00.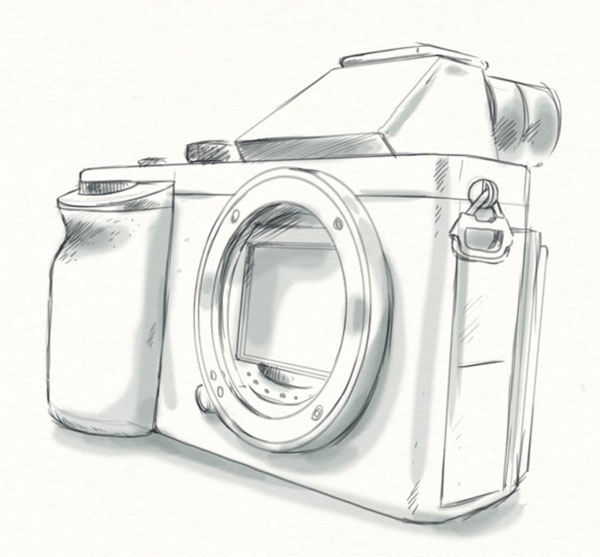 Sony A7 and Sony A7r are two fullframe mirrorless camera, A7 is a entry level mirrorless camera coming with a 24 MP FF sensor and a  price tag of A7 BODY ONLY is approx $1,698.00 A7 28-70MM KIT price  $1,998.00. Sony A7r mirrorless will arrive with 36 MP FF sensor and A7R BODY  price is $2,198.00.
Common features of A7 and A7r both camera –
A7 and A7r have focus peaking
eye tracking AF
Wifi and NFC
1/8000 shutter speed
both have tiltatble screen3
The pencil sketch shown above is 100% real and the upcoming camera look same as above drawing.  + We also have list of lenses that may arrive with Sony A7 and A7r Full Frame Mirrorless camera,
List of Upcoming Lenses from Sony
Zeiss FE 24-70mm f/4.0 OSS
Sony G 28-70mm f/3.5-5.6
Zeiss FE 35mm f/2.8
Zeiss FE 55mm f/1.8
Zeiss FE 70-200mm f/4.0 OSS
FE name is for Sony Full-Frame E-mount Camera, Stay with us on Facebook and googleplus to get detailed information and live updates. See more Sony Rumors.