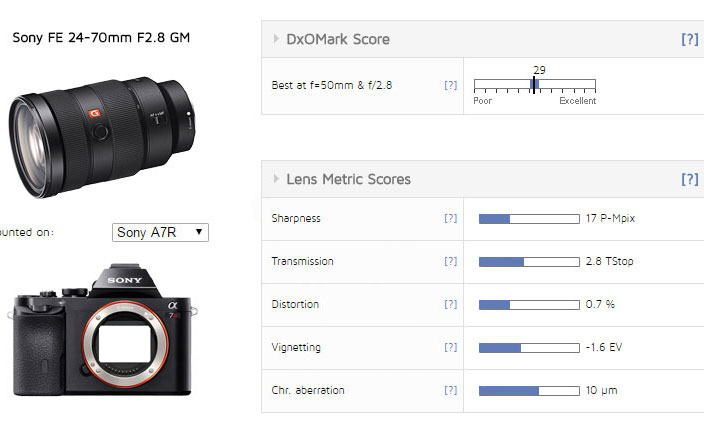 According to the latest test score published at DXO Mark Lab the Sony 27-70mm F2.8 Lens awarded 29 points as a overall score when paired with Sony A7R camera.'undoubtedly it is one of the best lens for you if you are planning to get Sony fullframe mirrorless camera.
Take a look at the test score of the lens when compared to other lenses of different brand, Canon is still leading the category with max score of 35 points.
DXO mark verdict
Given the emphasis on the high-grade components and construction to match the maker's high-resolution sensors, we had high hopes for the Sony FE 24-70mm F2.8 GM, and we weren't disappointed. It is the best-performing zoom in the maker's range and can easily hold its own against the new AF-S Nikkor 24-70mm F2.8E ED VR. However, for edge-to-edge to sharpness, the Sony isn't quite in the same league as the Canon EF 24-70mm F2.8L USM II, but we still have to add the Sony A7RII to propose a fair comparison with the 50 Mpix Canon EOS 5DSR. Nevertheless, the Sony does have certain strengths — better transmission and lower lateral chromatic aberration than many high-grade primes — and while certainly pricey, it's still a competitive and tempting addition to the range.
Also Take a look at – Sony Upcoming Camera Announcement Delayed