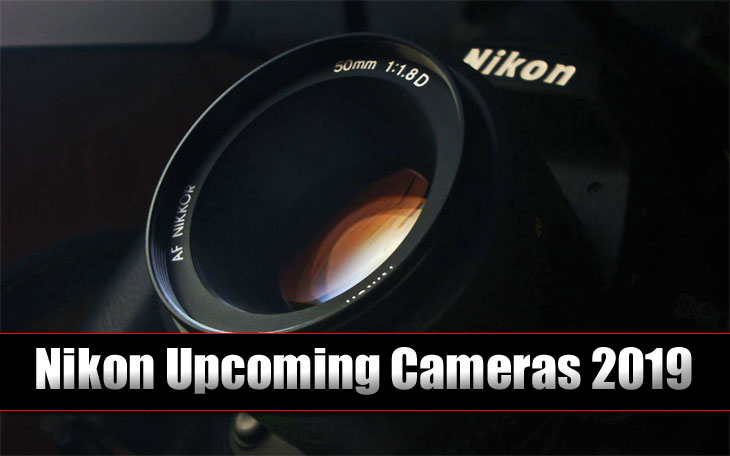 Nikon upcoming DSLR and Mirrorless rumored to arrive in 2019. We have created a list based on information's coming from anonymous sources from past few months.  The first three camera pointed out are DSLR, as per rumor we have the announcement will happen once the stock lines will become clear for the new ones. So, you can expect the announcement of these DSLRs within in beginning or Mid of 2019.
1. Nikon D5700
Nikon D5600 update is also expected to arrive in the beginning of 2019. We do expect that Nikon D5700 will have 4K and a brand new sensor. We have written a article a while ago, Nikon D5700 – Release date and Everything We Expect.
2. Nikon D760

This year we will have the successor of Nikon D750 camera. The camera is rumored to have 4K video capability and enhanced core specification. The expected arrival date of the camera is Q1 / Q2 of 2020.
3. Nikon D7600

Nikon D7500 update is also overdue and scheduled to arrive in the year of 2019. The date of arrival isn't known yet. The camera is said to feature same core specs as of Nikon D500 camera.
4. More Nikon Mirrorless Announcement on its way
Nikon representatives clearly hinted that there will be models below Nikon Z6, and Nikon APS-C Sensor based Mirrorless cameras are also coming. (see full post here). We don't have the exact dates now when Nikon will introduce a new APS-C or DX Format mirrorless camera or a  affordable version of Nikon Z6 Mirrorless camera. But, these words are coming from Nikon itself, you can say its a kind of unofficial confirmation,
5. 58mm F0.95 and more Mirrorless lenses  are planned
The list of Mirrorless fullframe lenses coming in 2019 include 20mm F1.8, 85mm F1.8, 24-70mm F2.8, 70-200mm F2.8 and 14-30mm F4. The most attractive out of all these lenses are ofcourse 58mm F0.95.
Like Nikon D5700 page at Facebook
Stay with us on FACEBOOK | TWITTER | GOOGLE+ to get live news + rumors 24X7