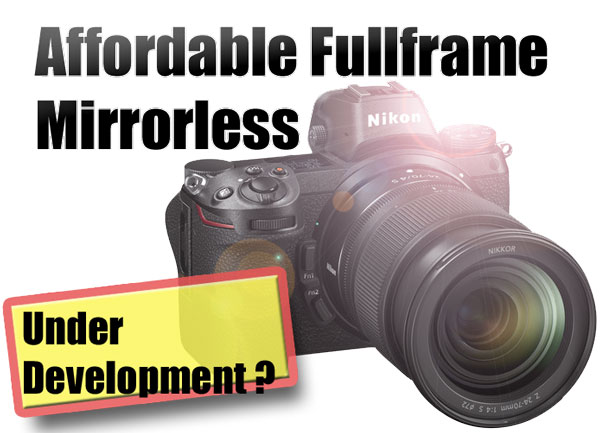 In a latest interview Nikon representatives clearly hinted that there will be models below Nikon Z6, and Nikon APS-C Sensor based Mirrorless cameras are also coming.  So, we now have Nikon  Z6 Mirrorless camera (body) priced at $1996 (B&H | Amazon.com) and with 24-70mm F4 lens you have to pay $600 extra to grab the entire kit.  When Nikon hinted a model below Z6, its a clear indication that we will sure have a camera somewhere around $1500 to attract Pro APS-C user base and will sure bring more new users to Nikon.
Interview with a Nikon executive [Major Points]

"I cannot confirm that, yes, we are doing a DX, but there will be models below the Z6. We will widen up the range to different users and different price brackets, definitely…"

"But having an S-line suggests that there should also be something else; non-S-line lenses, which will focus more on affordability."

"On the DSLR we could have chosen sensor-based VR because that technology exists already, but we chose lens VR because you then have the stable view in the optical viewfinder."

"Basically, if we had added the second card slot the camera would have been bigger – and we didn't want that."

"Because of the new mount, actually you cannot make an apple-with-apple comparison of an f/1.8 lens with this system with an f/1.8 lens for a DSLR, because the f/1.8 from thew Z mount is more similar to the kind of image quality you'd get from an f/1.4 on a DSLR. So that's really never-seen-before image quality."

"What we can see now is that the back orders for the Z7 are higher – maybe 60% to 40% for the Z6."
One of the best thing I really like is the introduction of big mount, even the Nikon executive said that even when you are using F1.8 lens on Nikon Z-mount camera you will get output similar a DSLR F1.4 lens.
We will update you soon as we get any new information related to upcoming cameras.
Also see – Canon EOS R vs Sony A7III vs Nikon Z6
The Nikon FTZ Mount adaptor available at $249 – Available at B&H Store
Buy Nikon Z6 camera from B&H | Amazon.com
Subscribe thenewcamera YOUTUBE channel Stay with us on FACEBOOK | TWITTER | GOOGLE+  to get live news + rumors 24X7