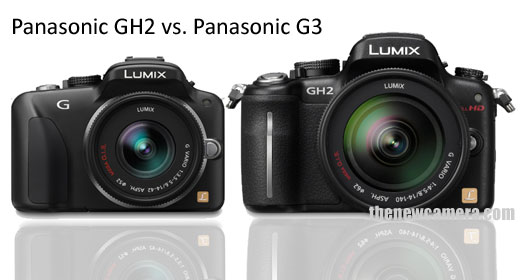 Panasonic G3 vs Panasonic GH2, big difference in price and very small difference in camera core specification, Panasonic G3 comes with many new features compared to old GH2.
Should you buy Panasonic GH2 or Panasonic G3? Which one is better and why? Read our Comparison review and find out your best Micro Four third Camera.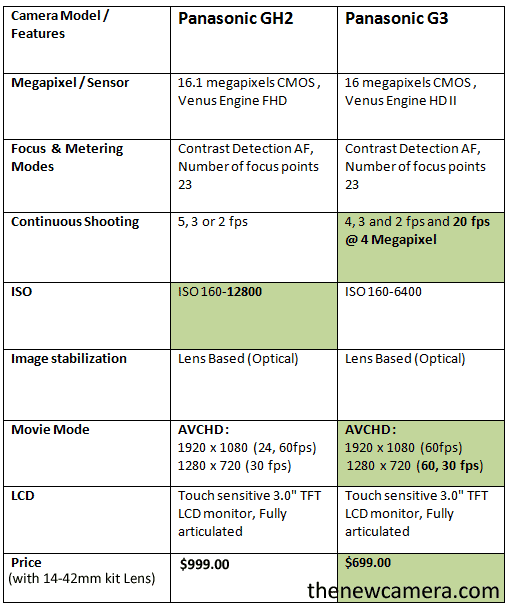 Panasonic G3 advantage over Panasonic GH2
Panasonic G3 is approx 40% smaller and thinner than GH2 with more improved grip and body design.
New features include Pinpoint AF, AF Tracking in Video mode, YES Panasonic G3 have AF tacking in Video mode,  a touchscreen-enabled focus mode that automatically zooms in on a point to make focus point selection and confirmation easier and more precise
Panasonic G3 have  same Venus Engine FHD processor as the GH2, the frame rate of 4fps at full resolution, extendable to 20fps for 4MP images.
Panasonic G3 have improved manual focus assist option, the user can magnify part of the screen. The magnified portion of the image displayed within the main screen while allowing the photographer to view the full picture composition.
Panasonic GH2 advantage over Panasonic G3
Panasonic GH2 have more ISO range compared to G3, the burst speed of GH2 is 1fps faster compared to G3.
Panasonic GH2($999.99) is costly compared to Panasonic G3 ($699.00), You will save more than $300 if you buy a Panasonic G3 Camera.
Buy Panasonic G3 from Amazon USA, UK or B&H store
---
Thanks to Marius Oosthuizen for your price suggestion.