Nikon P600 and Sony H400, both announced approx at the same timeline, the Nikon P600 features 60X optical zoom and Sony H400 features 63X optical zoom, but don't jump to a conclusion yet… take a look at the details below before buying your next megazoom camera.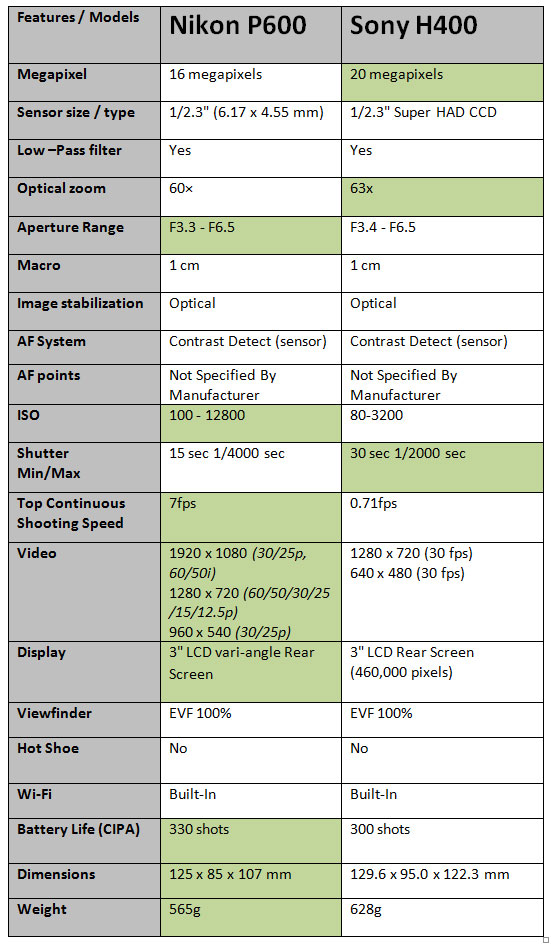 It's look like Sony was eager to  break all megazoom records without putting a bit attention on core specification of the camera (however you pay approx $180 less than Nikon P600), the Sony H400 packed with a 63X Megazoom lens and a CCD sensor with limited ISO range and only 0.71 fps continuous shooting speed.
Nikon on the other features CMOS sensor, 60X optical zoom and more ISO range, hence you will get sharper and cleaner images compared to Sony H400.
Nikon P600 records also full HD video at 60fps and Sony H400 is limited to HD video recording with 30fps frame rate (only).

The display unit of Nikon is vari-angle, so you get excellent flexibility while composing your images.
The Nikon P600 features smaller size, less weight and comes with longer battery life compared to Sony H400.
Verdict: We highly recommend you to buy Nikon P600  since it gives you 16 MP CMOS sensor, 60x Nikkor Zoom (only 3X less than Sony H400), more ISO range, fast continuous shooting speed and Full HD video recording with flexible display unit.
Buy Nikon P600 from Amazon | B&H