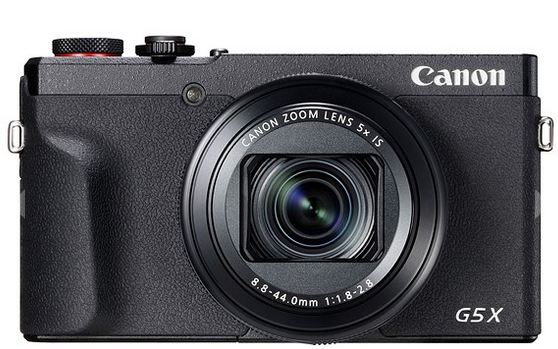 Get Canon G5X Mark II camera from B&H Store | Amazon.com
Canon G5X Mark II digital Camera finally announced today, and approx a month ago we have told you the camera is coming along with Canon G7X Mark III. The Camera features bright 5X F1.8-2.8 optical zoom lens, Stacked CMOS sensor, pop-up EVF and ultra compact design with an external 3.5mm audio jack.
Canon G5X Mark II Major Specification
20.2MP 1″ Stacked CMOS Sensor
DIGIC 8 Image Processor
5x Optical Zoom f/1.8-2.8 Lens
24-120mm (35mm Equivalent)
2.36m-Dot Pop-Up Electronic Viewfinder
Tilting Touchscreen LCD
UHD 4K30p and Full HD 120p Video
20-fps Shooting, 30-fps Raw Burst Mode
Built-In Bluetooth and Wi-Fi
Manual Control Dials, Star Shooting Mode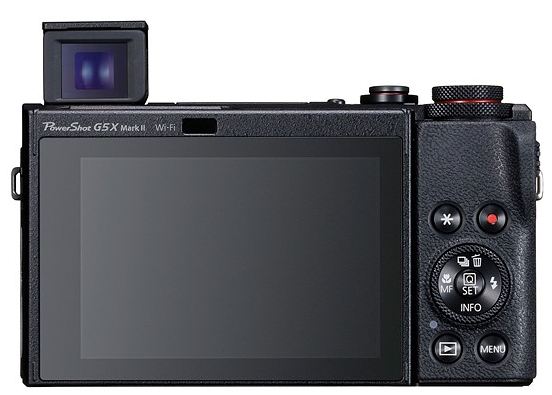 One of the best features of these recently announced compact camera is that they feature 4K video recording without a crop issue, but at the same time you can record 4K videos upto 10 min only in single shot. After that you have to start your recording again.
---
Canon G5X Mark II Press Release
UPGRADE YOUR VISUAL STORYTELLING TOOLS WITH TWO NEWLY ENHANCED POWERSHOT G-SERIES CAMERAS FROM CANON
The PowerShot G7 X III and the PowerShot G5 X Mark II are the New Powerhouse Cameras for Visual Creators and Advanced Amateurs
MELVILLE, N.Y., July 8, 2019 – Ansel Adams, one of the greatest landscape photographers once said, "You don't take a photograph, you make it." Never have truer words been spoken as digital photography has evolved and storytelling is shared through multiple mediums. Providing visual storytellers more options to bring their imaginative visions to life, Canon U.S.A., Inc., a leader in digital imaging solutions, introduces the PowerShot G7 X III and the PowerShot G5 X Mark II cameras. Successors to the PowerShot G7 X II and PowerShot G5 X respectively, these new cameras usher in a plethora of new and innovative functionalities. Depending on the model, new innovative features include live-streaming available with YouTube* (via wireless connection), a pop-up electrical viewfinder (EVF) and 4K video shooting.
"Creators and photographers of all levels are reinventing the way stories are told and, as technology has progressed, so have the diverse needs of our customers," said Kazuto Ogawa, president and chief operating officer, Canon U.S.A., Inc. "With features such as live-stream to YouTube* and a pop-up EVF, the PowerShot G7 X III and the PowerShot G5 X Mark II are true testaments to the company's commitment to integrate the latest advancements for those who choose to digitally stream their journeys with the world or seek to scale and capture the highest peaks."
Even though the PowerShot G7 X III and the PowerShot G5 X Mark II have many individualized, unique qualities, both include many core features that are true to Canon's imaging excellence. These features include:
DIGIC 8 Imaging Processor
20.1 Megapixel** 1.0-inch stacked CMOS sensor to achieve high image quality, high functionality and fast speeds
4K up to 30p, Full HD up to 60p, FHD up to 120p, HDR, high frame rate movie with no crop
High-speed continuous shooting at a maximum of 20 FPS
Highest ISO speed in the PowerShot category with a maximum of 12,800
Wi-Fi®1 and Bluetooth®2 connectivity
USB-C charge power supply
Craft Your Own Unique Visual Voice with the PowerShot G7 X III
Calling all YouTube creators, the PowerShot G7 X III is primed to be the next-generation vlogging camera. The PowerShot G7 X III features live-streaming to YouTube** capability via a wireless connection, allowing for creators of all levels to easily capture and post content in real time. The PowerShot G7 X III also offers vertical video support***, 4K up to 30P high-rate movie with no crop, full HD up to 120p, and an optical 4.2x lens, helping to achieve high image quality. Powered by the company's DIGIC 8 image processor, a new 20.1 Megapixel** sensor, and wrapped within a compact body with a microphone jack, the PowerShot G7 X III offers innovative technologies, an improved user interface and Creative Assist for both video and still photography needs.
Capture on-the-go with the PowerShot G5 X Mark II
A lighter, compact and premium point and shoot camera that touts a new pop-up EVF, touch and drag AF and new optical 5x lens, the PowerShot G5 X Mark II is perfectly positioned to provide high image quality and valuable functions. From trekking through various terrains of Patagonia where users can leverage the new panoramic shot feature, to capturing key moments with loved ones, the PowerShot G5 X Mark II will satisfy the needs of advanced amateurs who regularly use and are familiar with Canon EOS cameras as a second camera or integrate it into their daily lives.
The PowerShot G7 X III and the PowerShot G5 X Mark II have an estimated retail price of $749.99 and $899.99†, respectively and are expected to be available in August 2019. For more information and the full list of product specifications, visit http://shop.usa.canon.com/
Follow us for LIVE Updates
Check out Ongoing Featured and Lightning Deals at Amazon.com | Amazon.UK | B&H Store
Get LIVE RUMORS –> FACEBOOK | TWITTER |  INSTAGRAM to to get live news + Canon rumors 24X7