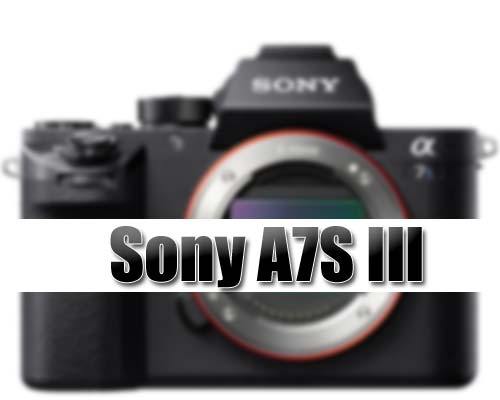 According to the latest information coming through the rumor mills, Sony A7 SIII camera will have newly developed stacked CMOS sensor which is of course different then the Sony A9 camera, that's clearly indicate Sony A7SIII will carry advance sensor tech compared to Sony A9 camera. However, no further details available about the type of tech Sensor Sony may used inside the upcoming Sony A7 SIII camera.
Let's talk about the confirmed set of specification we have about the Sony A7S III camera.
Sony A7S II Confirmed set of specification
4K 60p 4:2:2 10 bit
Batter Battery life  (2X More)
Increased in AF Accuracy
How we are saying these are the confirmed set of specification of the Sony A7S III. Since, these specs are almost confirmed by Sony Kenji Tanaka, VP and Senior General Manager of Sony's Business Unit. More details here
Let's have a look at the specification we have published a while ago
Upcoming Sony A7S III Specifications
Upcoming camera. Will  have a new stacked CMOS sensor.
New image processor will going to improve the auto focusing speed, continuous shooting speed as well as improved noise cancelling algorithm.
Sony A7S III have Dual card slots and UHS II card support.
Sony A7S III will going to have advanced display screen with touch support, better than the Sony A7 S II camera.
Improved auto focusing system with eye-tracking as of Sony A7 III, no mention about the number of auto focusing points.
Better colour depth dynamic range and low light performance compared to the previous generation of Sony A7S cameras.
It's a long gap since Sony A7III feb announcement. And after Canikon announcement, we also have Panasonic S1 and S1R announcement in the beginning of 2019 and they both carry some serious video core specs. and all these fullframe mirrorless system will sure give a very serious competition Sony A7 and Sony A9 line-up. I do believe that in the beginning 2019 we will have the Sony A7S III camera announcement.
Also see – Best Lenses for Sony A7III camera
stay with us (FACEBOOK | TWITTER | GOOGLE+) If you have time –>see more Sony Alpha Rumor.