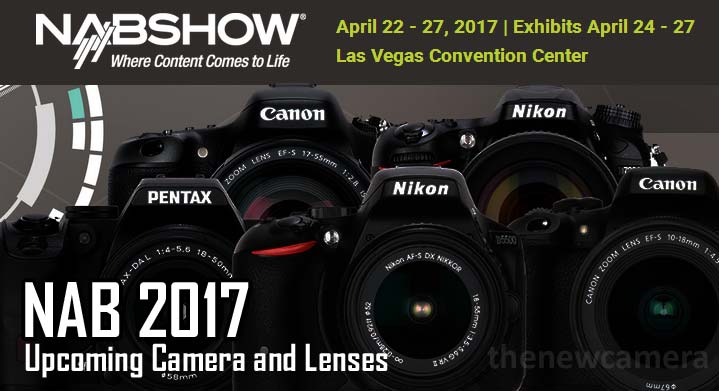 NAB show is being attended by more than 100000 attendees from worldwide countries and more than 2000 companies participate and announce their new product in that particular event.
NAB event is actually a best place to announce a cinema product. The product maybe for a consumer level or professional level. But it's a global platform to showcase your product and it also a great opportunity for video professionals to test new gadgets in the show.
This year the NAB event will begin from April 22 and will end on April 27 2017. In this event there are a lot of Rumored cameras and firmware updates are expected to arrive, take a look at the details below for more information.
What to Expect from NAB 2017 Show
Sony
Sony FS5 II– Sony rumored to announce FS5 successor with 8k video recording capability and global shutter. The camera is expected to arrive during NAB this year.
Some is about to announce a new Fullframe mirrorless camera as well as an new FE-mount lens. But arrival date of these products are still unconfirmed, however we are expecting an FF Mirrorless announcement at NAB.
Canon
Products Coming before NAB show are  Canon EF – S 35 mm f / 2.8 Macro IS STM Lens and Canon PowerShot SX series (possibly Canon SX70HS). The announcement is expected on April 6, 2017.
Canon 5D Mark IV Firmware Update: Canon 5D Mark IV getting C-Log addon pack on April month. Canon  will use the NAB platform to announce the Video centric  firmware update of .Canon 5D Mark 4 camera. More details about the firmware is present here.
We don't expect 6D Successor on NBA due to insufficient amount of information available to us. Canon 6D Mark II is due for a long time but you have to keep you patience under control since we haven't seen any sign of 6D Mark II camera yet. Exact reason behind the delay in 6D Mark II announcement isn't know yet. For more you can checkout latest Canon Rumor
Nikon
Nikon will remain silent at NAB 2017?
Currently Nikon have a lot of camera overdue and it's really interesting to see that how Nikon comes out from this situation.
Nikon D820, Nikon D760 and Nikon D7300 are expected to be announced this year. The exact announcement date of these cameras are not known yet.
Did you Know that Nikon also have 1 Fullframe DSLR and a new compact camera in its announcement funnel. The expected announcement date we have been told was April. More information available here.
RED
RED is not joining NAB 2017 show. They will join CINE EXPO at June.
BlackMagic
Blackmagic recently announced Blackmagic URSA 4.6K Camera on March 3rd, 2017. However, we do expect Blackmagic pocket cinema camera with 4K capability in near future. But, the exact announcement date isn't know yet.
We will update this page for sure if we get any new information. Do follow us on
Stay with us on FACEBOOK | TWITTER | GOOGLE+ to get live news + Camera rumors 24X7