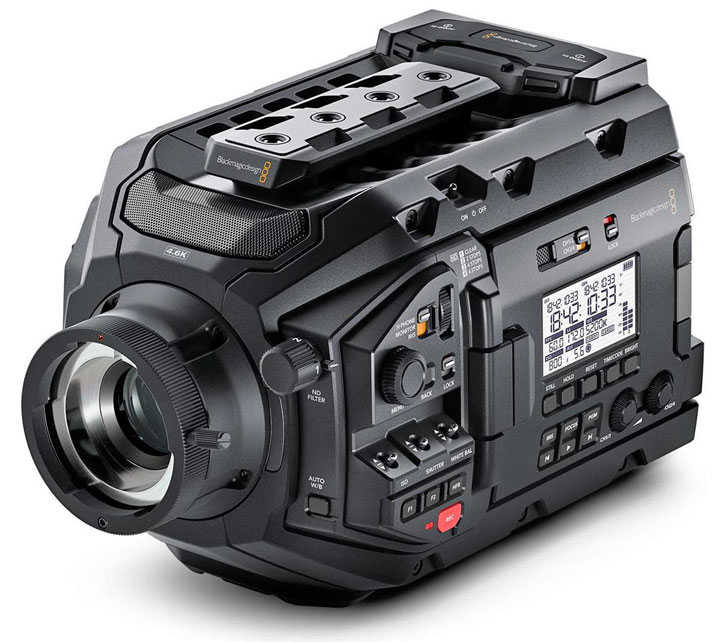 We have told you yesterday that black magic camera designs will going to announce a new camera on 3/3/2017. we have also given you the live streaming link of YouTube And finally  today they have announced the camera Black Magic URSA Mini PRO camera.
The black magic URSA Mini Pro cinema camera announced today is capable to record 4.6K video, the camera is dedicated for cinematographers. You will be surprised to know that this camera is a first step towards building a Universal Mount camera since it features EF Mount (Interchangable with PL and B4 mount). So it can accept Canon EF lenses, cinema PL lenses as well as it can also adopt the broadcast B4 mounts lenses.
The camera will going to cost you around appox $6,000 but it is one of the best camera made by black magic yet.  We can call this camera 3 in 1 camera that will going to satisfy the needs of broadcasters is Studiographers as well as film makers.
Black Magic URSA mini pro camera initially  available with three optional mounts, that is Canon EF, Cinema PL, or broadcast B4 mounts. The Good news is company is also planning to introduce  Nikon F Mount and and hence the Mini Pro will become the first camera from the company that will going to allow you to use your own Nikon FX lenses in the camera.  It's a excellent news for Nikon camera users that they can use their lenses on the one of the most powerful Cinemas camera blackmagic USA Mini Pro.
Talk about the features of this camera then according to the clay made by black magic the camera record XA Ultra HD 4.6 k videos and also features 15 stops at and with range always super white colour gamut and  DaVinci color science.
Black Magic URSA Mini PRO Major Specification
Super-35mm CMOS Sensor
4608 x 2592 Video up to 60p
CinemaDNG and ProRes 444 & 422 Recording
Full Set of External Controls
2/4/6-Stop ND Filter Wheel
Dual CFast 2.0 and SD Memory Card Slots
12G-SDI Output, Timecode and REF Input
2 XLR Audio Inputs with Phantom Power
Interchangeable Lens Mounts
Magnesium Alloy Body
The black magic URSA mini pro camera directly compete against Sony FS7 and Canon C300 mark II camera.
Get camera from B&H Store