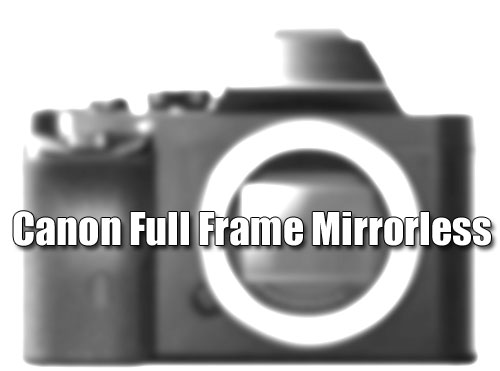 Latest patent surfaced over the web say the Canon is working on EF & EF-S adaptor for full frame mirrorless cameras. take a look at the details of the patent
Details of the Patent Translated by Google
Patent Publication No. 2015-118208

Published 2015.6.25

Filing date 2013.12.18

Canon patents

Flange back is shorter body

Flange back is long, a lens having the same image circle as the image pickup device body

Flange back is long, a lens with a smaller image circle than the image pickup device body

Mount adapter to change the diameter of the flare cut stop, depending on the image circle of mounting the lens
---
 Canon was working on 5DS / 5DSR and Fullframe Mirrorless camera before the interview was published
Take a look at the interview (published on September 25th, 2014)
Masaya Maeda, the Managing Director and Chief Executive, Image Communication Products Operations confirmed that Canon is working on serious mirrorless camera system other than EOS-M
Currently no Canon camera offers more than 22MP. Do your DSLR customers ask for higher resolution?
Maeda: Yes. We know that many of our customers need more resolution and this is under consideration. In the very near future you can expect us to show something in terms of mirrorless and also a higher resolution sensor.
We have already seen the Canon 5DS and 5DS R DSLR with super resolution 50MP fullframe sensor..what left is Canon Fullframe Mirrorless Camera.
What I have said on December 22nd, 2014 [link here]

No Need for Mirrorless Camera if it doesn't directly support EF and EF-S lenses, Canon users those who have already invested a large amount of on high quality lenses will not going to invest more money in new lenses ….and the mirrorless cam is useless if the camera body arrived by having similar sensor as of Canon DSLRs , it's a flop show… and no one's want to see that..
STAY WITH NEW CAMERA ON FACEBOOK | TWITTER | GOOGLE+ to get live news + rumors 24X7+