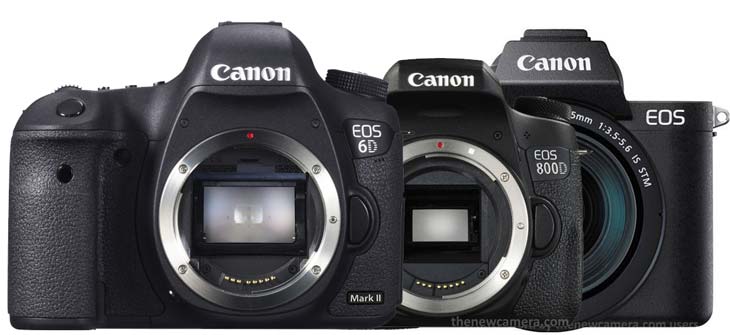 Take a look of Canon Upcoming DSLR and Mirrorless camera in 2017, We have seen some of the big announcements in the year 2016 which does include Canon 1DX Mark II, Canon 80D and finally during the Photokina event Canon also announced the Canon 5D Mark IV camera.
The Canon 6D Mark II camera was expected to arrive sometime in 2016 but the announcement was delayed since Sep 2016 date was reserved by 5D Mark IV. The delay in the announcement of 6D Mk II based on simple logic, Canon doesn't want to lower down the sales of its 5D series by putting a affordable DPAF FF sensor solution in-front of photographers.
Upcoming DSLRs, Mirrorless and Lenses
Canon 6D Mark II on July 2017
NAB 2017 shows will be a great platform in front Canon to introduce the Canon 6D Mark II camera. Earlier it was expected that Canon 6D Mark II camera is coming April of 2017 but now according to the latest rumors the annoumce,emnt date of the camera is now shifted to July of this year, the shipping of the camera will start from Aug/Sep. Before we begin to talk about the specification of the camera you must know that the upcoming Canon 6D mark II camera will have Dualpixel CMOS AF fullframe sensor and advance core specification compared to existing Canon 6D DSLR. That will sure attract new customer base towards Canon. more information here
Canon 150D / Canon SL2
Canon 150D / SL2 is also expected to arrive this year. The camera is successor of Canon lightest and world smallest DSLR canon REBEL SL1 / 100D. The core specification of the camera is not known yet but we believe the camera will share same core specification as of the Canon T7i  / 800D. More details available here
Canon G1X Mark III Q4 of 2017
Canon G1X Mark II was announced on Feb, 12th 2014. The age of the current camera is approx 2 years, 6 months. But, if we look at the Canon G1X product life cycle it was only 2 year and 1 month. It directly means Canon G1X Mark III announcement is inevitable.
Canon SX70 HS at CES 2017 Show
Yest the Canon SX70 HS is alive somewhere and breathing. According to the new sources Canon may announce the SX70 HS camera on CES 2017 show. No more details available yet but we do expect it will have a big jump in core specification when compared with Canon SX60 HS camera.
Upcoming Lenses in 2017
Till now we are getting information about three lenses those are expected to arrive in 2017
Canon EF 135mm lens
Canon 135mm Lens is expected to arrive in 2017 with improved optics and body. We can expect its announcement on Q4 of 2017. [See more here]
Canon EF 85mm F1.4 Lens with IS
Canon 85mm F1.4 lens is one of the most awaited lens of 2017. The new pro grade lens for shooters is on its way, likely to be announced in Q4 of 2017.
Canon EF-S Wide angle lens
A new EF-S lenses is expected to arrive by having focal length even wider than the EF-S24mm F1.8 Lens. Possibly Canon is preapring to announce super wide 10mm prime lens soon for it's APS-C cameras.
Canon Fullframe Mirrorless Rumor
According to rumors published few weeks ago Canon is likely to announce the Canon Fullframe mirrorless camera in Q4 of 2017. Canon is also working on a fixed lens compact camera to compete against Sony RX1R. More details here
and finally one more..
Details are very less about this camera but Canon 5DS Mark II is also expected to arrive on Early 2018  here (October 12th, 2016). The camera will be updated with a new sensor DPAF for sure with a higher resolution.
Not only Canon all the companies are slashing up the announcement of small sensor based compact camera, Canon will  continue to update its compact line-up in January as well as February of 2017.
We have added the list of expected camera that may arrive in 2017, we will update this post as any new information arrives. Thanks for reading and do share your thoughts with us.
Products Already Announced
As we have told you in this page that Canon 800D / T7i  and Canon 77D will arrive as expected. Not only these two Canon EOS M6 also announced on Feb 15th 2017. Click here to see the announcement articles and press release of these three cameras.
STAY WITH ON FACEBOOK | TWITTER | GOOGLE+ to get live news + Canon rumors 24X7
This page updated on 12/March/2016