Sony announced RX100 IV camera features newly developed sensor, the sensor comes with stacked backside-illuminated technology to enhance its low-light capabilities, Sony engineers placed its photodiodes between the rear of the lens and sensor's underlying processing structure, hence the light capturing capability improved remarkably,
Now its time to take a look at the high ISO test between Sony RX100 IV and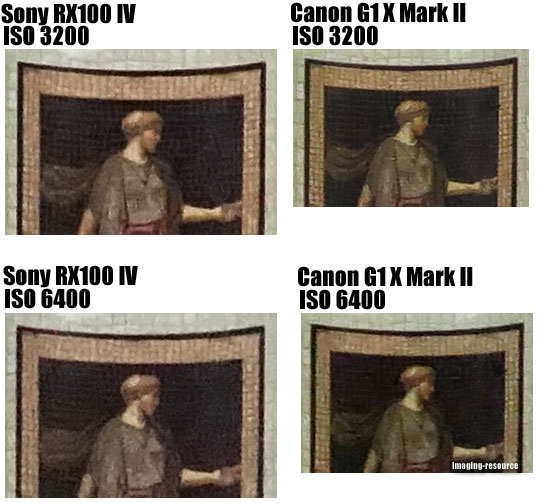 Buy Canon G1X Mark II from Amazon || B&H ||
Sony RX100 IV camera vs Canon G1X Mark II, The resolution of the G1X Mark II camera is limited to 12 Megapixels only by having a 1.5 inch sensor on the other hand the  SonyRX100 IV features a 1 inch sensor with 20 Megapixel resolution,
Due to large sensor and less resolution the Canon G1X Mark II produces bit more details compared to the Sony RX100 M4 camera in both ISO test.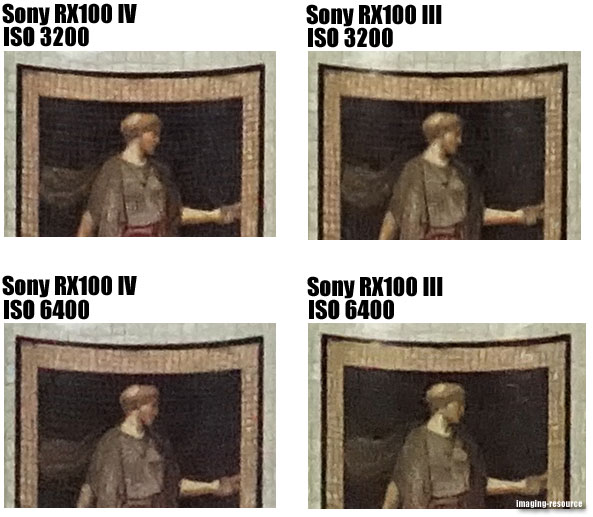 Sony RX100 IV uses newly developed stacked CMOS sensor, so does this tech help the RX100 IV camera to show significant difference compared to its predecessor, may be yes .. Since at ISO 3200 as well as at 6400 Sony RX100 M IV camera is able to grab out bit more details compared to RX100 M III, however  I am not able to spot any significant difference between these two camera.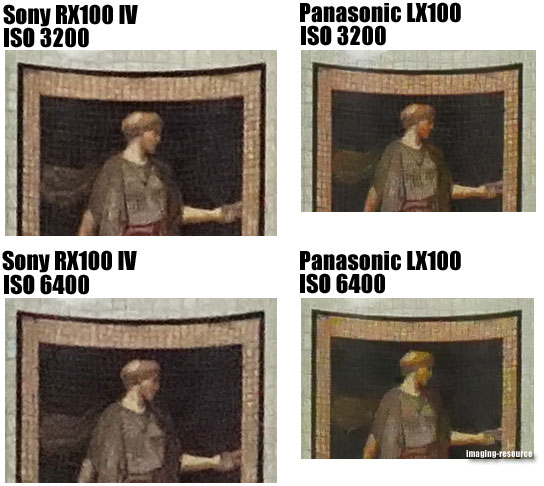 The LX100 features a 4/3 sensor, the sensor is large compared to the Sony RX100 camera…  the LX100 features 12MP sensor whereas the Sony RX100 III features a 20 Megapixel CMOS sensor, since the LX100 large sensor we can clearly see the advantage in the image quality of the camera at ISO 3200, however I am surprised to see that at 6400 the image look more flat compared to the RX100 IV camera.
Panasonic LX100 available at Amazon B&H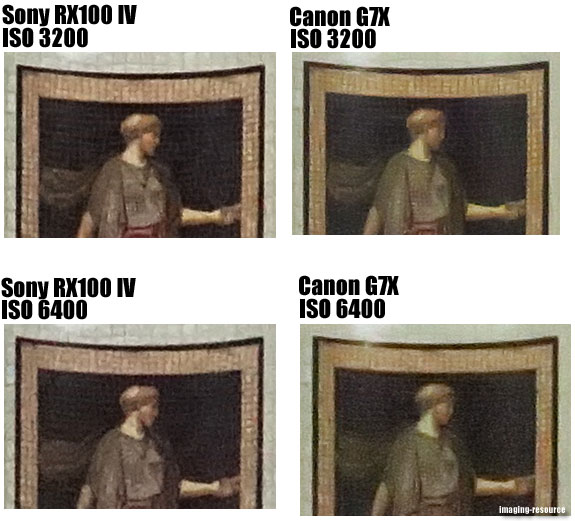 We are confirmed that the Canon G7X is using the BSI CMOS sensor of RX100 M3  and on the other hand the Sony RX100 M IV is using newly developed Stacked BSI CMOS sensor, however the difference is minimal and Sony RX100 IV is showing marginal better performance.
Buy Canon G7X from Amazon||