Leica Q is Just announced by Leica and Sony RX1R is now almost 1 year old, take a look at the detailed specification review between these two camera.
Major Difference
Leica Q (Typ 116) vs. Sony Cyber-shot DSC-RX1R Specification Comparison Table.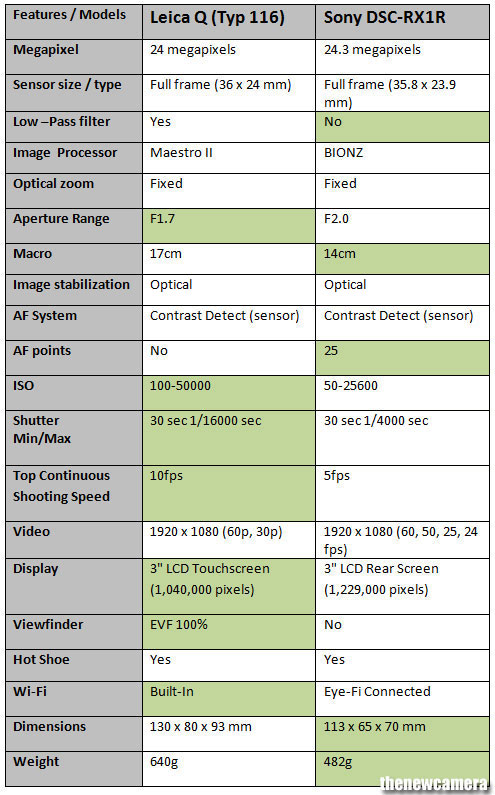 Megapixel:- The Leica Q (typ 116) and the Sony DSC-RX-1R have same resolution. It is powered by full frame 24MP CMOS sensor and Maestro II Image Processor and it can capture high resolution images on the other hand Sony DSC-RX-1R has Full-Frame 24.3 MP sensor and BIONZ Image Processor which offers high level of quality image .
ISO:- The Leica Q (typ 116) has more High ISO range compare to Sony DSC-RX-1R. Technically it has approx 1 stop more ISO compare to Sony DSC-RX-1R. Its high ISO offers the users to shoot event, wedding, street shooting and low-light work photography and also the users can shoot in dull and dim light with more accuracy. The users of Sony DSC-RX-1R can work in only controlled light environment like in their studio.
Fast Image Processor inside the Leica Q – The Leica Q image processor is more advance than of Sony's BionzX since the continuous shooting speed is directly proportional to the type of image processor used in the camera and since both the camera uses same size of Sensor and features exactly same resolution but the Leica Q continuous shooting speed 10fps mark on the other hand the Sony RX1R shutter speed limited to 5fps only, that clearly shows that the processing power of Leica Q is better than Sony RX1R camera.
Continuous Shooting Speed: Leica Q (typ 116) offers 10 fps shooting rate which supports the low-noise performance and wide dynamic range comparative to Sony DSC-RX-1R.
Low-Pass filter:- The Leica Q (typ 116) features low –pass filter which eliminates the production of moire but it also reduces the fine details when viewed in full resolution. No low-pass filter in Sony DSC-RX-1R which results Excellent details in the image whe n viewed at 100%,  both the lens and image sensor shows the best performance.
This camera is suitable for professional users so they can drag out the full details or even recompse the image after shooting without loosing the image quality of the image.
Aperture Range:- The aperture of the Leica Q (typ 116) is smaller than the Sony DSC-RX-1R, which is the advantage for Leica because aperture affects the depth of field as well as the low-light capability of the camera, the smaller the aperture, the greater is the zone of sharpness and hence in this regard Sony DSC-RX-1R has F2.0 aperture which
Macro:- The Leica Q (typ 116) has macro mode of 17cm comparatively a little better than Sony DSC-RX-1R's 14cm.
Since Macro mode is commonly used to photographing flowers, insects or other small creatures or things, it is just like to take a close-up view of the things.
Image Stabilization:- There is no of image Stabilization in Leica Q (typ 116) but Sony DSC-RX-1R has optical SteadyShot image stabilization which helps to minimize the unwanted camera shake without making any alterations to the image and the users get blur-free images.
AF Points:- No AF Points is present / mentioned by the manufacturer in Leica Q (typ 116) but Sony DSC-RX-1R has 25 AF Points. Hence due to 25 AF Points, the users of Sony DSC-RX-1R enjoy the more improved speed and accuracy in focus and hence there is increase in the chance that the camera finds out and focus on real subject instead of something else.
The function of AF Points is also supported by its BIONZ image processor; which results in high speed auto focusing in variety of lighting conditions.

Shutter:- The Leica Q (typ 116) has fast shutter speed comparative to Sony DSC-RX-1R. Hence it can help the users to freeze the action of any subject completely. Also Shutter speed is a measure of how long a camera's sensor is exposed.
Video:- Both Leica Q (typ 116) and Sony DSC-RX-1R record full HD 1080p video, so there is no major difference in image quality.
Display:- Leica Q (typ 116) features 3.0″ 1,040k-Dot LCD Touchscreen which is touch capable and the users can make fast changes to their settings.
Price difference: The Leica Q will cost you approx $4,250 and on the other hand the Sony RX1R will cost you approx $2,798, that clearly indicates that you have to pay a big amount ($1400 more compared to RX1R) of money while getting the Q.
Viewfinder missing in RX1R – With Leica Q you also get a high quality viewfinder, no viewfinder available in the RX1R camera,
Verdict: The Big problem with Leica is it's price tag, the camera will cost your $1400 more compared to the Sony RX1R, but the Leica Q features bright aperture Lens, more ISO range, fast continuous shooting speed, better display unit and EVF, however if you want to save some bucks than RX1R is also a prefect option.
Buy Leica Q from B&H and Amazon