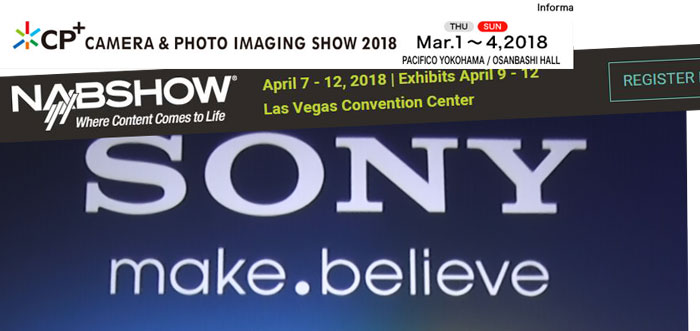 Let's take a look what Sony have for the next CP Plus show announcement .
I don't remember Sony announcing any particular digital camera exactly on the CP Plus show..  Announcement may happen sometime in the month of March and April but it will going to arrive in the CP Plus even I am not able to confirm this at the moment.
Before we begin let me tell u that there are two consecutive show coming in, first one is the CP Plus (Camera and Photo) so that will going to happen in the first week of March and after that we have NAB (National Association of Broadcasters) so which is more video centric made for Videographers
Last year the Sony A9 was announced on April 19 and the Sony A7 R3 camera was announced on October 25. We have to mirrorless camera overdue for announcing the first one is Sony 7III and the second one is Sony A7 SIII.
If you look and upcoming camera model code,  we have 1 mirrorless camera registered for Wi-Fi certification and its model code is WW 541200 (features built in WiFi and Blue tooth connecitvity)
Sony Camera Expected to arrive CP plus show 2018
Sony A7III
So I am sure,  Sony will going to announce at least one Mirrorless camera  in next few weeks.  and I do expect the announcement of Sony A7 3 camera,  with autofocus system same as of Sony A9.  completely new 24 megapixel sensor,  advanced image stabilization system  and 4K video.
Now the upcoming NAB so is more videos  centric,  so we may see Sony A7 SIII announcement during the month of April.
A7S series is more dedicated towards video and low light still shooting. We do expect introduction of Sony A7S III camera with BSI or stacked CMOS sensor with ISO 819200 or more.
We have already published the list of Sony upcoming camera 2018. So, you can see list of more cameras in that article.
we also have a Sony camera users facebook group you must join that group to get live updates lots of discussions are going on, there you can ask questions you can give answers you can share your images.
stay with us (FACEBOOK | TWITTER | GOOGLE+) If you have time –>see more Sony Alpha Rumor.