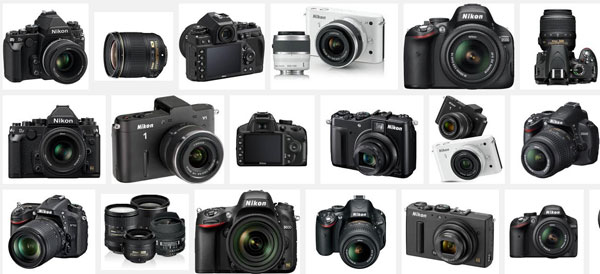 We have created a list of upcoming camera that may be announced in Q1 and Q2 of 2014, the list is based on rumors surfaced over the past few months,
2013 was a bit active year for Nikon, Nikon not only updated its current line-up of DSLRs but also introduced Nikon coolpix A compact camera with APS-C sensor and Nikon DF DSLR with D4 sensor and Nikon D610 AF system, So what we will see in 2014 and what we want to see in 2014… take a look below on the list of camera ..
Nikon Rumored Products Coming on 2014
1. Nikon V3 Coming on CES 2014 – Nikon 1 V3 mirrorless camera coming in CES 2014, the upcoming camera will feature probably new sensor, the upcoming camera will design similar to Nikon P7800 pro-compact camera
2. Nikon D3300 – expected to announce in early 2014 and I think CES is the best place to announce new products worlddwide.
3. Big Sensor compacts from Nikon also expected to arrive in Q1 of 2014. (we are talking about 1 inch sensor compact camera)
4. There is also a probability of announcement of  new D4s/D4x camera. More megapixels combined with super speed.
5. Nikon coolpix A successor – Yes it's not to early to talk about Nikon coolpix A succesor in 2014, with increasing competition in the pro-compact range Nikon may also announce Nikon coolpix A successor with advance AF system in 2014.
Lenses Coming in Q1 of 2014 – Details here
Nikon AF-S NIKKOR 35mm f/1.8G
Nikon AF-S NIKKOR 18–55mm f/3.5–5.6G DX VRII
Users are waiting for / Nikon Camera's should arrive in 2014,
 Nikon users are waiting for Nikon D400,  We have high hopes that we may see a real D400 DSLR in 2014, Take a look at fresh set of rumored specification arrived in our mailbox few weeks ago.. Nikon D400 may feature 24 MP high performance sensor, 10/11 frames per second continuous shooting,  51-point AF system, ISO expandable to 50-25,600, Dual memory card slots (one CF and one XQD) and lightweight magnesium alloy body.
A bit More
Affordable Version of Nikon DF DSLR – According to our sources yes there is also a strong probability that Nikon will announce a affordable version of Nikon DF DSLR in Q4 of 2014 or Q1 of 2015.
Why people are talking about a affordable DF when we already have Nikon D610 and D800 DSLR? Since Nikon DF is not a part of current series of Nikon DSLRs…..and it is possible if Nikon DF become successful Nikon may announce more products related to DF series in future.
To users – Please add camera names (with specification) you want to see in 2014
STAY WITH ON FACEBOOK | TWITTER | GOOGLE+ to get live news + rumors 24X7.
If you have some extra time – Also see
Canon cameras we'd like to see in 2014
Sony cameras we'd like to see in 2014