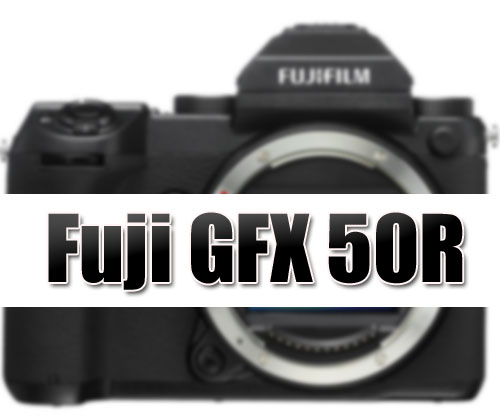 Let talk about the budget medium format GFX 50R  camera,  the next Medium Format camera from Fuji is a budget medium format camera and expected to arrive during photokina 2018 with the same sensor that is being used inside the GFX 50s camera and not only sensor the camera will also share same core specification as of GFX 50S.
Fuji GFX 50R Early Specification
Let's talk about what we have related to Fuji GFX 50R camera
According to latest rumors Fuji GFX 50R camera is coming with 50 megapixel medium format sensor, same as it has been used inside the GFX 50s camera
Core specification is expected to remains same of GFX  50S with minor upgrades.
Announcement time of Fuji GFX 50s camera is photokina 2018.
The price of upcoming Fujifilm GFX 50s camera is  rumored I want to be around   3900$ and 4300$
Reason behind Fujifilm keeping the upcoming medium format camera price low,   it's a strategy to strike the full frame DSLR market with a medium format camera that will have a price same as of a High-End full frame DSLR.
If you are going to look at the price of the current GFX 50s camera from Fujifilm,  you will have to pay $ 6499 [B&H | Amazon] and more for body only.
Sony and Fuji partnership and development of new medium format sensor
We are the first website to told you that Sony has developed a 100 Megapixel BIS CMOS MF Sensor and they are also working on 150MP MF BSI CMOS Sensor.
It's bit logical that the successor of the Fuji GFX 50S camera will get the Sony advance 100 MP Sensor. But, at the same time Fuji wants to keep the 50MP Sensor in the market by having a low price tag body to reach maximum amount of photographer. They want to announce a low budget medium format camera for professional full frame DSLR Shooters.
Fujifilm GFX 50s successor in 2019
After the announcement of GFX 50 R,  next year that is in 2019 they will going to announce the successor of gfx 50s camera that will going to carry a 100 megapixel medium format BSI CMOS sensor.
Follow Fuji Rumors on Facebook
Also see – Fuji X-H1 Camera is Coming
STAY WITH ON FACEBOOK | TWITTER | GOOGLE+ to get live news + Fuji rumors 24X7