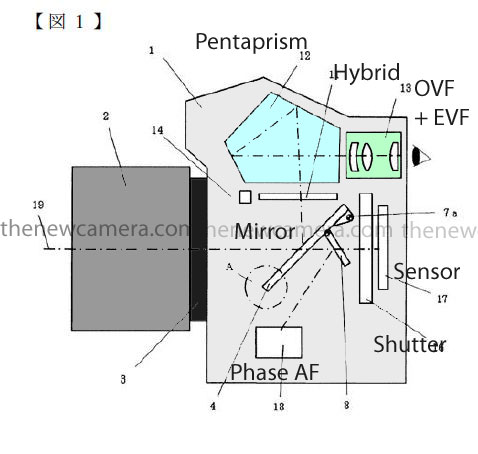 Canon is working on to improve the DSLR viewfinder by adding a extra layer Hybrid EVF over it. Adding a extra layer of Hybrid EVF will going to solve all the problems associated to the optical viewfinder in the current generation of DSLR camera.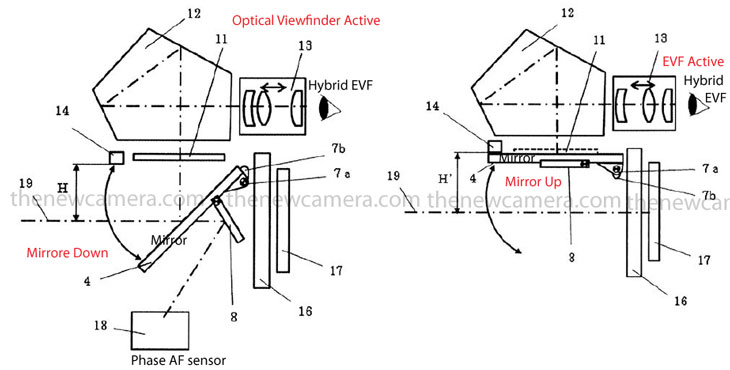 Advantage of Having Hybrid Viewfinder in DSLR camera
In general the DSLR viewfinder become dead  while you are recording a video, because the mirror is flipped up and the DSLR sensor on work, so at that moment the optical viewfinder becomes inactive. One of the biggest advantage include Hybrid viewfinder, is that you can use it while you are creating video from your DSLR.
Introduction of Global shutter in DSLRs, after adding hybrid EVF for DSLR maker it will become easy to go beyond 20FPS or even more than that while keeping your viewfinder active. Since, the flipping Mirror do have limited physical speed and once they reach physical limit it is not possible to use global shutter with optical viewfinder.
Also see – Canon working on Light field camera
take a look at the DSLR viewfinder patent details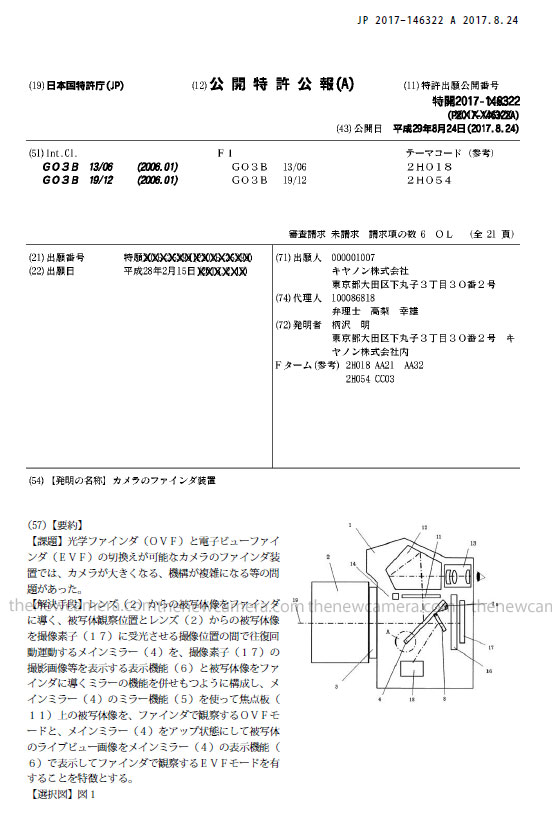 Patent Details – Canon Hybrid Viewfinder – Translated from google
The present invention relates to a camera viewfinder, and more particularly to a single-lens reflex camera having a function of both the electronic view finder optical viewfinder (OVF) (EVF)
PROBLEM TO BE SOLVED: To solve problems of an increased size, a complicated mechanism and the like of a camera employing a viewfinder device allowing switching between an optical viewfinder (OVF) and an electronic viewfinder (EVF).SOLUTION: A main mirror (4) that directs a subject image from a lens (2) to a viewfinder and performs reciprocating revolving movement between a subject observation position and an image pick-up position in which an image pick-up device (17) receives light of the subject image from the lens (2) is configured to have both a display function (6) to display, e.g., an image picked up by the image pick-up device (17) and a mirror function to direct the subject image to the viewfinder, thereby realizing: an OVF mode in which the subject image on a reticle (11) is observed with the viewfinder using the mirror function (5) of the main mirror (4); and an EVF mode in which the main mirror (4) is in an up state and a live view image of the subject is displayed by the display function (6) of the main mirror (4) and observed with the viewfinder.SELECTED DRAWING:
Canon Working on Hybrid Viewfinder for EOS Cinema Camera | Canon Patent of Hybrid Viewfinder
Stay with us FACEBOOK | TWITTER | GOOGLE+ to get live news + Canon rumors 24X7