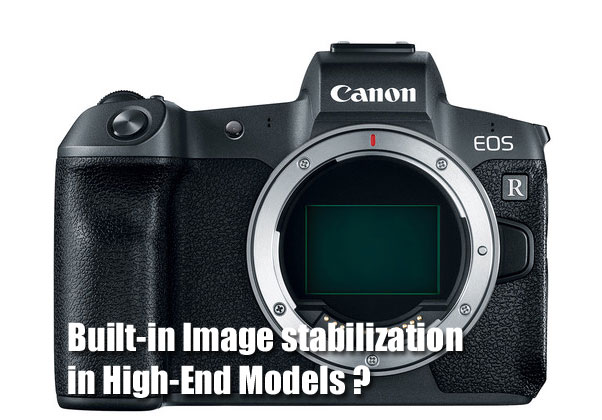 Canon's head of ICB product development team interview published at a Japanese website. It do reveled a lot of thing that, including that Canon may implement Butil-in image stabilization system in future cameras. Click here to read out the major translated parts of the interview.
(Translated) Major Points of Canon ICB product development team interview
(Replying to the question of "Why didn't you disclose the flange back distance at the announcement?") Although the flange back distance is 20mm, the more important number is the back focus distance, i.e. the distance between the last element and the sensor. This will change from lens to lens.
Though based on an existing sensor, this is a newly developed sensor, with new DPAF mechanism and microlenses. You should see improved high ISO performance over 5D4.
EOS R should give better image quality than 5D4 thanks to DIGIC 8 allowing in-body DLO and better noise reduction resulting in 1/3 stop higher maximum ISO.
The system can be operated without the multi-function bar or the control ring, so some future R models may not have them. EF lenses with control rings are unlikely because the ring depends on new electrical contacts introduced by the RF mount.
The additional freedom in lens design can be used to make lenses smaller, or improve image quality, meaning that the F2.8 zooms announced as pipelines won't necessarily end up being smaller.
Canon had a policy against IBIS on DSLRs, but this is not the case for MILCs. Lack of IBIS on EOS R was a result of compromises over body size, cost and heat dissipation for this particular model; they do think it has merits, and will consider it for future models depending on the nature of the camera body.
EOS R is primarily targeting mid-level DSLR users looking to move upmarkeg. They concede that the R system may be too high priced for existing M users. (There is no discussion about R/M mount compatibility, unfortunately.)
This is a middle-segment camera, a 5D class body, and they do expect to release higher- and lower- end bodies. In particular they expect to see demand for high pixel count bodies to counter the competition.
RF mount cinema EOS is a possibility. Not sure if anyone except high-end pros need 8K.
So, that's was the major points of the interview. As you can see Canon Mirrorless Team do have the capability to introduce built-in image stabilization system, but due to Cost nd body size issue they have decided not to add it on the recently announced mid-range Canon EOS R Mirrorless camera.
Join Us and Help Us
Help us Directly We are at Patreon
Get Your Products through our affiliates – Amazon | B&H
Get Connected
Canon Fullframe Mirrorless Camera User Group
Subscribe thenewcamera YOUTUBE channel Stay with us on FACEBOOK | TWITTER | GOOGLE+  to get live news + Canon rumors 24X7