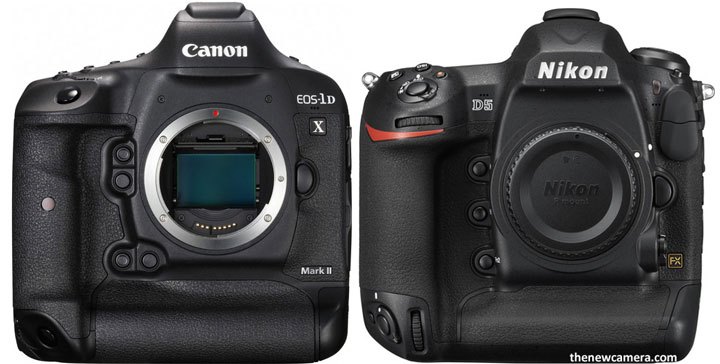 French website published high ISO test result of Nikon D5 and Canon 1DX Mark II DSLR. Before we begin let's talk about the specification of both the camera.
The Canon 1DX Mark II camera features 20.2 MP fullframe Dual pixel CMOS AF sensor powered by a Dual DIGIC 6+ image processors, the camera features expandable sensitivity range from 50 to 409600. With the help of ultra fast image processor the Canon 1DX Mark II can capture 4K video @ 60fps and Full HD video at 120 fps. The fast continuous shooting speed of the camera touches 16fps in live view and 14 fps with Full time AF and AE.
Nikon D5 Features a 20.8 MP fullframe sensor and Expeed 5 image processor, the  Nikon D5 ISO range is unbelievable and touches 3.2 Million Mark, other features include 4k recording at 30 fps, 12 fps of continuous shooting with AF and AE.
If we look at the core specification of both the camera than due to Nikon intense High ISO range (3280000 vs 409600) the Canon 1DX Mark II look inferior compared to Nikon D5.

But the big question is Nikon D5 high ISO numbers really work or it's a pure marketing thing ? Let's take a look at the High ISI test of both the camera.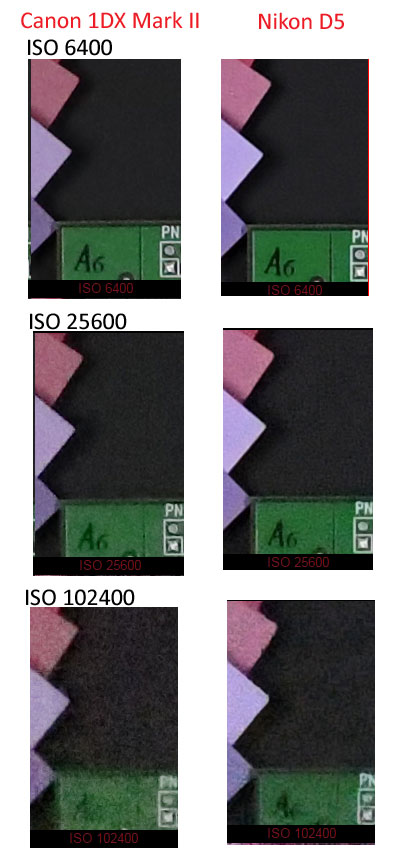 According to the Reviewers of focus-numerique (translated by google)

Impossible not to compare its performance with the NIkon D5 (recently tested). No big surprises, it is true that both devices are equal even if their noise reduction strategy is slightly different sensibilities to critical passage. Note that Nikon favors smoothing and thus necessarily the slight loss of detail while Canon takes a little more noise but preserved textures. All this is of course valid for the common sensibilities of both devices. Remember that the Nikon mounts over 3 million it manages ISO and porridge with very high ISO better than the Canon (from 200 000 to 400 000).
Nikon D5 does showing only slight improvement over Canon 1DX Mark II. But, the camera isn't showing any big difference in the High ISO test, that clearly shows that Nikon D5 ISO range written in  the specification-sheet is a marketing thing.
Also take a look at – Canon 1DX Mark II vs Nikon D5 Specification comparison and Nikon D5 Sensor Shows Low Dynamic Range
Buy Canon 1DX Mark II from Amazon || buy Canon 1DX Mark II from B&H
Buy Nikon D5 from Amazon ||  B&H
Source: focus-numerique