One of the biggest problem faced by Drone owners is bad weather, the good news is that DJI Phantom 5 Drone is rainproof. So, for now weather is not going to become any obstacle in your creativity, I think the DJI Phantom 5 will going to become one of the most popular drones of DJI series because of its rainproof feature.
DJI Phantom 5 Rain-Proof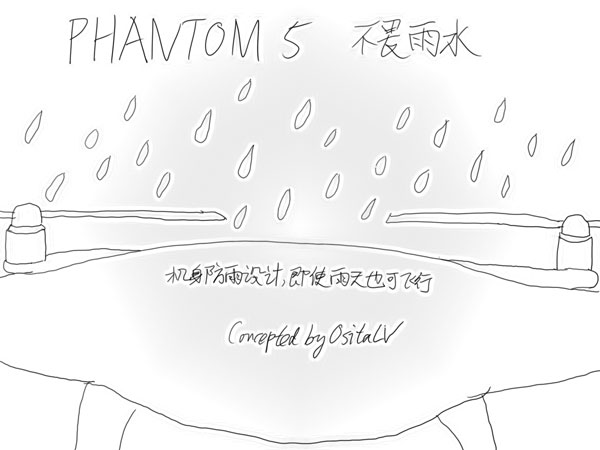 Finally, we have the sketches of Phantom 5 drone coming from the trusted sources and according to them the upcoming drone is Rain-proof. Also take a closer look to the camera of upcoming Phantom 5 Drone, the source is sharing image of Phantom 5 camera drone (prototype) having DL-Mount and 50mm Lens in his hands.
Phantom 5 Camera with DL-M mount
The DJI Phantom 4 drone was having a 20 Megapixel 1 inch sensor and fixed 24 mm f 2.8 lens. The upcoming DJI Phantom 5 drone will carry a DL-M mount, and with the DLM Mount you can use the 15 mm, 24 mm, 35 mm, and 50 mm lenses. So, now with Phantom 5 you can shoot ultra-wide angle shots with 15mm lens to cinematic portraits with 50mm lens support.
We don't have any confirmation related to the announcement date of Phantom 5, but be assured that announcement will happen Before OR at Photokina 2018 show.
Stay with us FACEBOOK | TWITTER | GOOGLE+ to get live news +  DJI Drone Rumors
Via OsitaLV