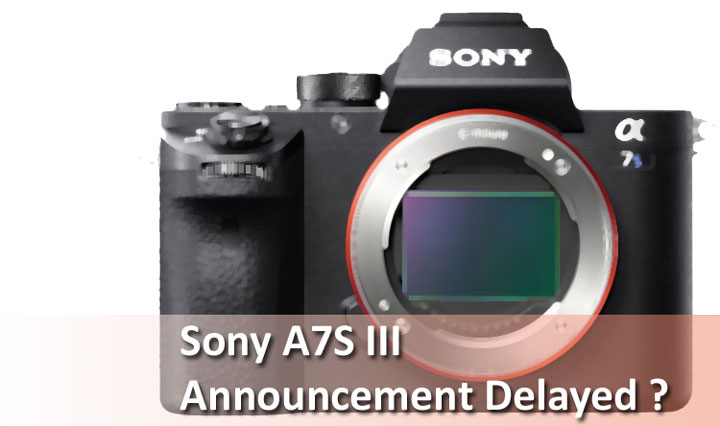 According to latest rumors the Sony A7S III announcement was delayed due to the high demand of Sony A7III camera, You will surprise to know the camera is still at back-ordered mode and Sony isn't able to fill-up the market demand.. And due to the high demand they have postponed the scheduled update of Sony A7 S II camera. If the rumor is correct then for sure we will going to see the Sony A7S III camera sometime at end of 2018 or may be they pick-up photokina event to for its announcement.
Upcoming camera. Will  have a new stacked CMOS sensor.
New image processor will going to improve the auto focusing speed, continuous shooting speed as well as improved noise cancelling algorithm.
Sony A7S III have Dual card slots and UHS II card support.
Sony A7S III will going to have advanced display screen with touch support, better than the Sony A7 S II camera.
Improved auto focusing system with eye-tracking as of Sony A7 III, no mention about the number of auto focusing points.
Better colour depth dynamic range and low light performance compared to the previous generation of Sony A7S cameras.
We have already discussed about the possible specification of the upcoming Sony A7S III camera, we have already told you that the upcoming camera is coming with front end LSI circuit and advanced BionzX processor to upscale the overall Core specification of the camera to the next level. We also expect Sony A7 S3 camera will going to have 4K at 60 frames per second with 4:2:2 10 bit internal recording, what we already have in Panasonic GH5S.
We will update you soon as e get any new information.
Follow the Sony A7S III Facebook Page for Dedicated Updates
We will update you soon as we get any new information, stay with us (FACEBOOK | TWITTER | GOOGLE+) If you have time –> see more Sony Rumor