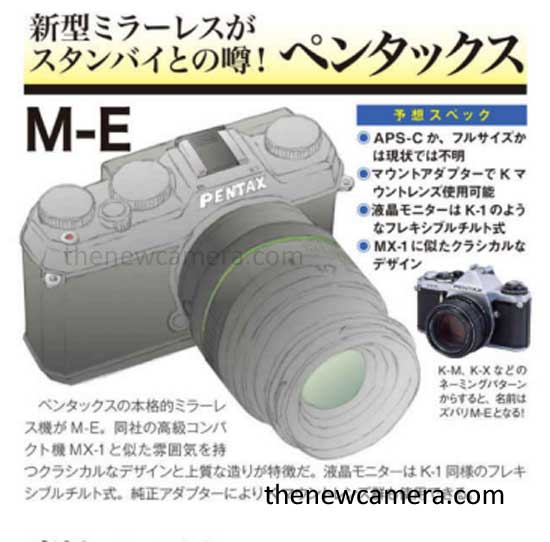 According to a Japanese Mag Pentax is planning to re-enter in Mirrorless Market with it's M-E Mirrorless camera (Name isn't confirmed yet) that expected to be announced in next few months, possibly after the announcement of Pentax K-P DSLR.
The original M-E camera camera was announced on late 1970, a classic 35mm camera. Pentax is gearing up again to re-create the legacy of M-E film camera with M-E Mirrorless camera
Pentax M-E Rumored Specification
20.1 / 24 MP APS-C CMOS Sensor
Ultra compact Retro body
Shake Reduction
AA Filter Simulator
Weather Resistant
Coming with K-mount Adaptor
Flipped LCD Monitor
Pentax M-E isn't first mirrorless camera, Pentax announced its first mirrorless camera Q on 2011. The Pentax Q was the world smallest mirrorless camera ever made by having a 1/2.3″ (6.17 x 4.55 mm). After Q camera Pentax announced Q10, Q7 and Q-S1. The last Q-S1 mirrorless camera was announced on 2014 and after that Pentax halted it's production due to low demand.
(Thanks Mario Groleau) After Pentax Q Pentax announced K-01 Mirrorless camera on 2012 with same APS-C sensor that was used inside the Nikon D7000 DSLR and Pentax K-5 camera. But Pentax also discontinued it's K-01 camera after some time.
Follow us on our social pages  FACEBOOK | TWITTER | GOOGLE+, Or subscribe us via Email or Push Notification You Can also Download our Android App for live news + Pentax rumors 24X7