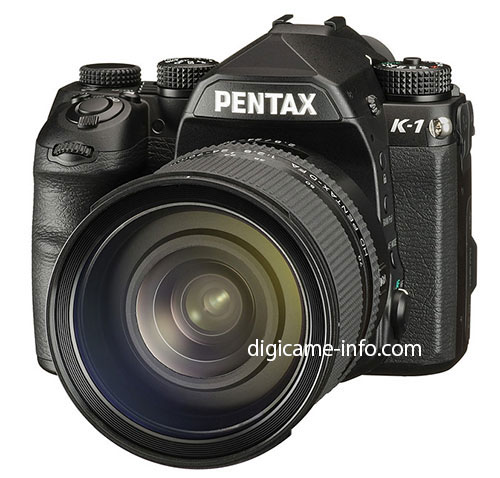 Finally the detailed specification of the upcoming Pentax K-1 camera leaked today, the camera features 36 MP sensor and records 4K movie.
PENTAX K-1 specifications
36.4MP CMOS sensor. A low-pass-less
– Realistic resolution. Motion correction by sensing the body to reduce the effects of the synthesis (ON / OFF possible)
– Low-pass selector
– Image processing engine PRIME IV
– Sensor Size: 35.9 x 24.0mm
– Video is full HD (60i / 30p). Recording level of manual setting Allowed
– 4K interval movie
– 14-bit RAW
– DR II
– Can be mounted lens is KAF3, KAF2, KAF, KA, K, there is compatible with power zoom lens
– AF sensor SAFOX12. AF point is 33 points (25 points are cross-type). -3EV Correspondence
– AF assist light
– Viewfinder magnification 0.70 times. 100% field of view
– Focusing screen Natural-Bright-Matte III
– Crop function
– LCD monitor 3.2 inches 1,037,000 dot. Flexible tilting (up and down 44 degrees, left and right 35 degrees, waist-level support)
– GPS built-in. ASTROTRACER. Electronic compass. GPS log
– Wi-Fi built-in. Remote control function
– Shutter unit of the compact new design. Durability is 300,000 times
– Shutter speed is 30 seconds -1/8000 seconds. Synchro speed is 1/200 sec
– Media SD / SDHC / SDXC (UHS-I). Dual card slot
– USB terminal (USB2.0, micro B), HDMI terminal (type D)
– Microphone jack, a headphone jack, X contact
– 5-axis camera shake correction "SR II". Shift shake, corresponding to the rotation shake. Shutter five stages of effect
– Camera shake correction is panning automatically detect the
– Electronic Level
– Photometry sensor 86000 pixel RGB sensor. Real-time scene analysis system
– ISO range is 100-204800
– Continuous shooting 4.4 frames / sec (full size). 6.5 frames / sec. (APS-C)
– The number of pictures 70 sheets in the JPEG, 17 shots at the RAW (at full size 4.4 frames / sec.)
– Automatic horizontal correction, composition fine-tuning
– Clarity control, skin color correction function
– Hand-held HDR function (can be saved in RAW)
– Mount the top, card slot, release the socket, the operating unit assist light to illuminate the back of the monitor
– Control panel customization features
– The battery is D-LI90P
– Battery life is 760 sheets
– Body adopts the exterior to the magnesium alloy of the front and rear and bottom
– Dust and water structure which has been subjected to the 87-point ceiling. -10 Degrees of resistance to low temperature
– Size: 136.5 x110 x 85.5mm
– Weight: 925g (body only). 1010g (battery, including one SD card)
The camera will cost you approx 1999-2299 euros, expected to arrive next day (Feb 18 2016).
Stay with us on Facebook and twitter to get more news and Pentax Rumors