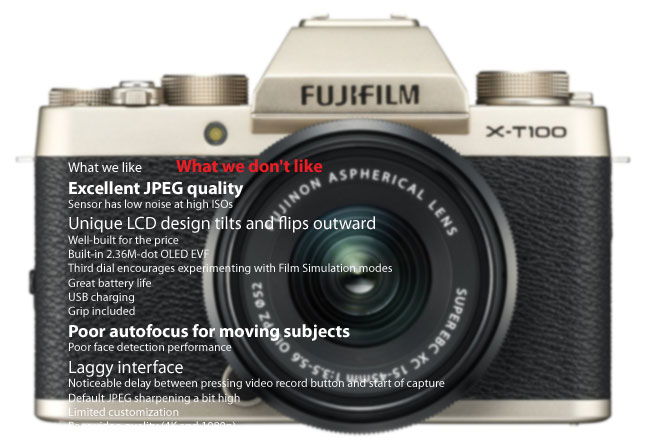 Fuji XT 100 camera review published at Digital Photography review website (dpreview.com), but the Digital Photography review Team is didn't look so happy with the camera. The list of the what we don't like is bit more compared to the what we like list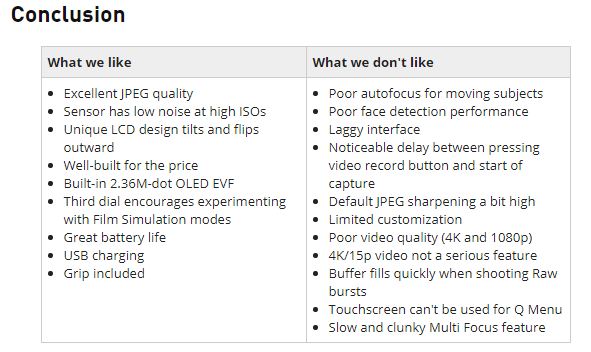 Slow AF Tracking AF and Laggy Interface
One of the most important thing that the DP review editor is disappointed with ability of the camera to focus on moving subjects. The camera is not able to maintain a proper focus on moving subjects as well as the entire operational speed of the camera feels Laggy.
Excellent JPEG quality and more
However we do have some positive science also, the camera produces excellent JPG quality and the sensor has low noise at Higher iso, that is the max ISO of the camera touches the 12800 limit.
But the list of what we don't like is surprising large, one of the big reason behind the Slow AF tracking and Slow overall operational speed is the use of slow processor inside. dpreview editors are not happy with the 4K video mode off the camera since it is limited to 15 frames per second only, the camera also allow you to have very limited customization. And according to the editors there is a noticeable display between pressing the video recording button and start of the capture.
Alert Panasonic GX85 Combo Pack Sale Today Only – Amazon.com | B&H
Best Alternative of Fuji X-T100 – Panasonic GX85
At the end even be video editors think that Panasonic x85 is one of the best alternative if you are looking for a multipurpose camera that records 4K video and suit excellent stills at the same price range of the Fuji XT 100.
Get Panasonic GX85 From Amazon.com | B&H
Also see – Fuji X-T100 vs Canon 200D
Subscribe thenewcamera YOUTUBE channel Stay with us on FACEBOOK | TWITTER | GOOGLE+  to get live news + Nikon rumors 24X7