TNC EXCLUSIVE Well have already seen Canon 55-200mm lens patent, Yes they are developing a new Zoom lens for Canon APS-C models. And now we have found a new 18-55mm F3.5-5.6 Kit Zoom lens patent that clearly shows Canon is also working on a new kit Zoom Lens with improved AF performance and overall design of the lens.
The new lens also features a dedicated DISPLAY SCREEN as we have seen in patent Image.  First time on internet – You are looking at the patent image of Canon next 18-55mm Kit lens with display screen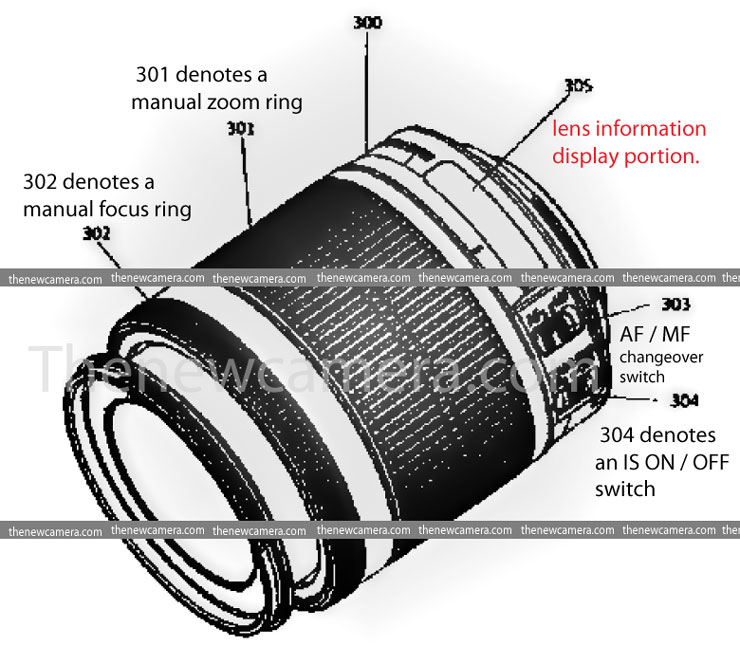 Patent Details of Canon 18-55mm IS III Lens
PROBLEM TO BE SOLVED: To provide an interchangeable lens which prevents an image having many aberrations unintended by a photographer from being photographed when attached to an aberration correction incompatible camera in an aberration correction compatible lens. An interchangeable lens detachably mountable to a camera body includes a communication unit for communicating with a camera, a camera identification unit for detecting whether or not a camera mounted on the camera is an aberration correction compatible camera, and a camera identification unit And when the camera is identified as a camera, the camera is in a photographing impossible state. BACKGROUND OF THE INVENTION
Reference numeral 301 denotes a manual zoom ring, reference numeral 302 denotes a manual focus ring, reference numeral 303 denotes an AF / MF changeover switch, reference numeral 304 denotes an IS ON / OFF switch, and reference numeral 305 denotes a lens information display portion.
Stay with us on FACEBOOK | TWITTER | GOOGLE+ to get live news + Canon rumors 24X7