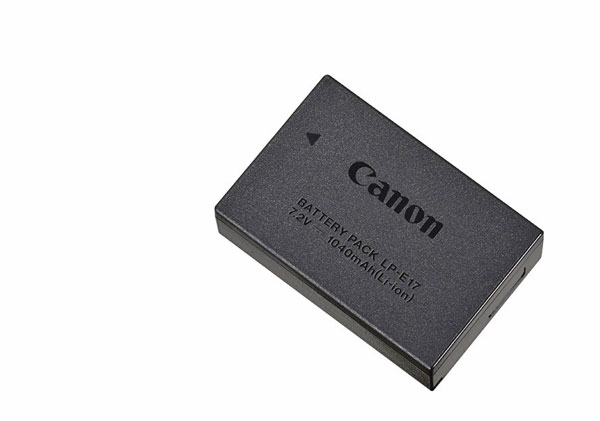 According to latest rumors coming from trusted sources, the camera will use Canon LP-E17 battery. The battery is of 1040 mAh capcitiy. One of the most important thing is,
1. Canon EOS R 1865 maAh Battery Life is not so good (370 shots per charge)
Canon EOS R camera uses uses a LP-E6N Rechargeable Lithium-Ion Battery Pack, 7.2 VDC, 1865 mAh . And the Canon EOS R 1865 mAh battery is allow you to capture 350 – 370 shots per charge.
2. EOS RP Rumored to use 1040 mAh battery
So, if Canon added a lower power 1040 mAh  battery Canon LP-E17 to the upcoming EOS RP Mirrorless then they will sure create a camera with terrible battery life that no one wants to buy.
And the second option is, they have find a way to make a more energy efficient camera (as we have seen in past, camera makers are now interested in making more energy efficient cameras. Nikon D3500 is gives you 500+ shots with same battery that Nikon D3400 was using). So, there is big possibility that Canon manages to give more shot-per-charge camera compared to EOS R, by removing the touch bar etc and adding new circuits.
Things to note In general Canon LP-E17 is being used in – EOS M3, M5, M6, Rebel SL2, Rebel T6s, Rebel T6i, Rebel T7i, and 77D
See all rumors related to Canon EOS RP Camera
We will update you more once we get the more details of the upcoming camera.
FOLLOW CANON EOS RP at FACEBOOK
Canon 850D / T8i, Canon G7X Mark III and 2 More Announcement Come in next few months…
Get Your Products through our affiliates – Amazon | B&H
Follow us on our social pages  FACEBOOK | TWITTER | INSTAGRAM to get live news + Canon rumors 24X7