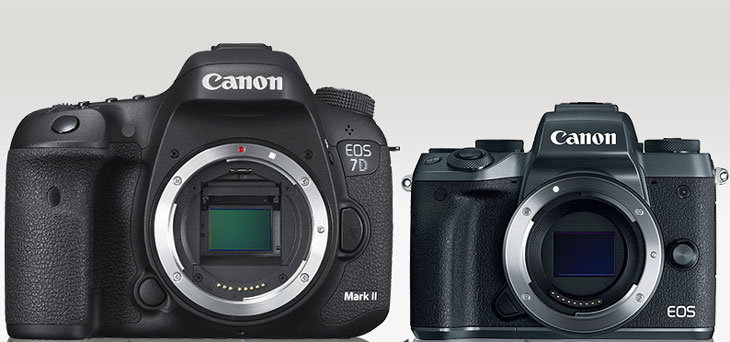 6 Reasons – Why Canon EOS M50 camera is better than 7D Mark II
Take a look at the reasons why Canon EOS M50 is better than Canon EOS 7D Mark II camera. Starting from the most attractive one feature.
1. Canon EOS M50 vs Canon 7D Mark II – Video

Canon EOS M50 features 4K video on the other side we have Canon 7D Mark II camera that remains limited to Full HD video One of the most initial difference between these two camera is the presence of 4K video inside the Canon EOS M 50
Possibly due to the introduction of Advanced image processor Canon EOS M50 is able to record 4K high quality videos with more rich colour and less noise as compared to the Canon previous generation of cameras
2. Canon EOS M50 vs Canon 7D Mark II – ISO Range

If we talk about the standard ISO range 7D mark 2 camera then we have 100-16000, Canon EOS M 50 offers standard ISO range starting from 100-25600. But at the end The Expendables high ISO range about the camera exactly same.
Canon EOS M50 have More standard high ISO range and advanced Digic 8 image processor with completely redesigned image processing algorithm as well as new generation of C RAW, we do expect that Canon EOS M50 will give more cleaner images at high ISO range.
3. Canon EOS M50 vs Canon 7D Mark II

Canon EOS M50 camera features compact design as well as half body weight compared to the Canon 7D Mark II camera. Having a lightweight and compact camera is very important for a long run. And you are getting all this without sacrificing the image or video quality of the camera.
4. Canon EOS M50 vs Canon 7D Mark II – Display

This is one of the most important aspects of photography. having a very angle display screen gives you compositional freedom, and it helps a lot while creating server videos the most important thing for Vloggers out there.
5. Canon EOS M50 vs Canon 7D Mark II

You get new generation of file format support with the new Canon EOS M50 camera as well as a new C-RAW file which is 40% smaller then the conventional RAW file format support.
And as we know that the with Canon 7D Mark II camera you can use the EF and EF-S lenses support at the moment the EF-M lens are bit limited but with help of new adapter.
6. New Digic 8 Image Processor

Canon Digic 8 image processor is more advance compared to Dual Digic 6 image processor.  10FPS @ 20.2MP and EOS M50 can also shoot 10FPS @ 24MP. Additionally the EOS M50 records 4K and supports new image decoding and AF algorithms.
With the introduction of new image processor we get a lot of new things
1. More cleaner High ISO images
2. More smooth and Rich Video recording.
3. Improved AF algorithms to improve AF speed.
4. Improved Noise reduction in Videos
5. More details at Min aperture
6. Improvement in Overall speed of the camera

Well at the end you will get better image quality, new generation of RAW format and better video quality with the camera. So, we recommend Canon  EOS M50 over the Canon 7D Mark II camera.