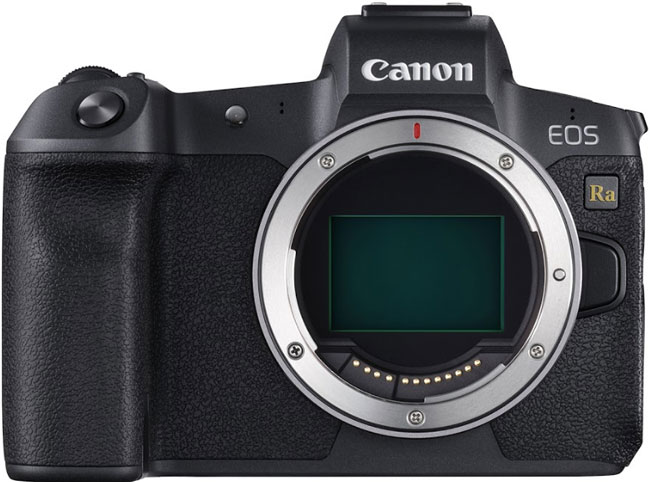 Finally we have the major specs of the Canon EOS Ra camera. Let's take a look at the major specs of the camera. It features almost same core specs as we have seen in Canon EOS R camera.
Canon EOS Ra Major Specification [Rumor]
30.3MP Full-Frame CMOS Sensor
Infrared Sensitivity–Astrophotography
DIGIC 8 Image Processor
4K30, 24 Video
C-Log & 10-Bit HDMI Out
Dual Pixel CMOS AF
3.69m-Dot OLED Electronic Viewfinder
3.15″ 2.1m-Dot Swivel Touchscreen LCD
Expanded ISO 50-102400
Wi-Fi and Bluetooth, SD UHS-II Card Slot
Multi-Function Bar, Dual Pixel RAW
Modified infrared filter and a low-noise sensor with heightened hydrogen-alpha sensitivity. These modifications allow the camera to capture magnificent photographs of "red hydrogen emission" nebulae and other cosmic phenomena.
The major difference between the EOS R and EOS Ra is the modified IR cut filter. Canon has altered the filter to provide the Canon EOSRa with greater infrared light sensitivity and enabled it to achieve hydrogen-alpha light transparency. Hydrogen-alpha, also referred to as H-alpha or Hα, is a very specific red visible spectral line created by hydrogen, with a wavelength of 656.28nm. This red visible line in the spectrum occurs when hydrogen electrons fluctuate between the second and third-tiered orbits (or energy levels) of a hydrogen atom (according to the Balmer Series). When they move between these levels they absorb or release energy, and this emission and absorption of energy occurs at 656nm.
The IR cut filter modification of the Canon EOS Ra helps to allow as much light as possible to pass through this narrow bandwidth at the H-alpha frequency. The modification essentially allows you to photograph reddish, diffuse nebulae and other astronomical phenomena in a clearer, more brilliant manner—void of the IR attenuation associated with traditional hot mirrors and other IR-blocking technologies on most cameras. The need to photograph light at this wavelength is paramount because the color of light emitted from nebulae is strongest, and most pure at the hydrogen-alpha line. The color of this light is outside the parameters of the visible spectrum, and our eyes, or camera, cannot accurately render this light without filtration.
stay tuned… more to come

Get LIVE RUMORS –> FACEBOOK | TWITTER |  INSTAGRAM to to get live news + Canon rumors 24X7