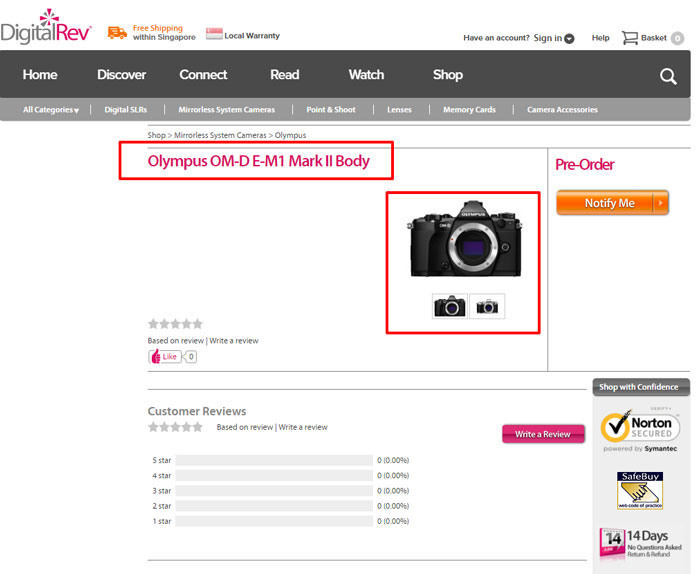 It's look like the announcement of Olympus E-M1 Mark II is very near, Digital rev website even started taking pore-orders of E-M1 Mark II camera (even before the official announcement).
Yesterday, we have reported that Canon, Olympus and Leica upcoming cameras name popped over a Indonesian wireless certification agency website.  That clearly indicates that Olympus Mark II in the announcement pipeline and and as our report says it will be the next and only big announcement from Olympus in near future.
We have published several times the leaked specification of the upcoming E-M1 Mark II camera, the camera was expected to arrive during photokina 2016, but there is a chance that we may see it bit early.
E-M1 Mark II is rumored to feature 20 Megapixel live MOS sensor, the other major feature coming with the E-M1 mark 2 is the arrival of 4K video for the first time in any Olympus camera, take a look at the rumored specification of the camera below
EM1 Mk2 is definitely going to be launched at Photokina / September 2016 [Confirmed]

Advanced High Resolution mode [Confirmed]
High Resolution Hand-Held Mode  [Confirmed]
 4K Video [Confirmed]

New AF System dictated for Sports shooting / professional use
New viewfinder
Better Image Stabilization mode
Big improvements in core specification compared to current E-M1 models
Price will remain same as E-M1
We will update you soon as we get any new information – Like Olympus E-M1 Mark II page on Facebook
STAY WITH ON FACEBOOK | TWITTER | GOOGLE+ to get live news + Olympus Rumors 24X7+